First…I actually had a dream that was neither disturbing nor frightening. My wonderful wife and I were in a giant antiques store, but warehouse is probably a more appropriate description. Along with the furniture, coins, clothes, knickknacks and old advertising this establishment also sold older cars. Some of the cars were sitting on huge shelves many feet off the ground. (Shades of Carvana towers?)
I noticed one such vehicle and was immediately in the company of a store employee who proceeded to tell me all about the car, called the Comet. I don't think it was a Mercury Comet, though, as my recollection was that the name was a make unto itself. The employee somehow knew of my preference for an automatic transmission and tried to sell me on the favorable power-to-weight ratio. Oddly, I could not see all of the car from my vantage point, only the front two-thirds as the car was on a shelf. I didn't buy the car and then I woke up.
I have always been able to remember some of my dreams, but writing them down in the blog has increased my retention. Perhaps, my brain knows I use dreams as content so it somehow stores them for me. Maybe that's a crock.
******************
1957 was, in many ways, two years in one for the US automobile industry. It was a year of innovation and sales that increased–albeit slightly–from 1956, but it was also a year when a sharp recession that hit in late summer devastated the industry. Sales declined by a third from 1957 to 1958. This recession played a major role in the demise of makes like DeSoto and Edsel and led to the increase in imports of cars like Volkswagen.
Sales reached 6.4 million cars in 1957. Ford, with new models and new styling, beat Chevrolet selling 1.67 million cars to the Bow Tie's 1.5 million. Note that the two big dogs had about a 50% market share combined. One Ford model was quite the innovation: the Skyliner retractable hardtop: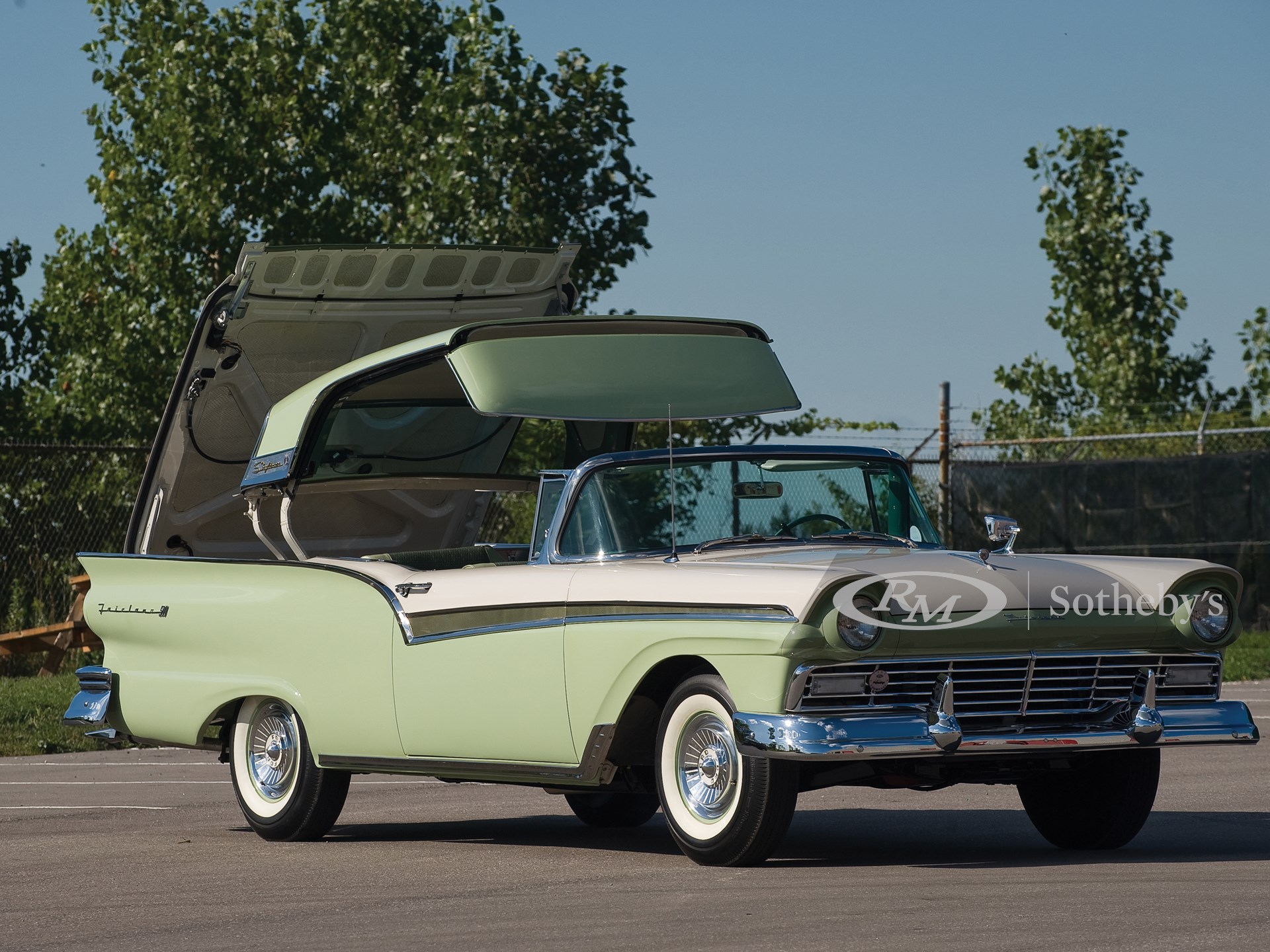 Obviously from RM Sotheby's is a picture of the Ford Fairline Skyliner. The car was introduced very late in model year 1957, April of '57. In its advertising Ford claimed, "Ford's sensational "Hide-Away" (Retractable) Hardtop is the most revolutionary idea in automotive design since the development of the closed car 40 years ago!"
The Skyliner was produced for three model years becoming part of the Galaxie line in 1959. The car was not a huge hit with total sales of 48,394 during its run. It was the first American car with a retractable hardtop (the Peugeot 402 was introduced in 1938) and first in the world to reach 10,000 in total production/sales.
General Motors also introduced an innovation for 1957, mechanical fuel injection. While this system is best known for its use in Corvettes, it was also used in this car:
This is a 1957 Pontiac Bonneville. All 630 of these were powered by a fuel-injected 347 cubic-inch V8 that produced 310 HP/375 LB-FT of torque. (Some sources state that the Bonneville was available with a Tri-Power setup, but most claim the car was only available with a fuel-injected engine.) These cars were not cheap with a list price of $5,782, $2,000+ more than Pontiac's next most expensive model, the Star Chief Custom Safari wagon. While I don't know who would service such a vehicle, the '57 Bonneville is a car I would very much like to own.
Speaking of expensive cars, 1957 was the second and last year for the beautiful Continental Mark II, priced at $10,000, but the 1957 model year saw the introduction of an American car even more expensive: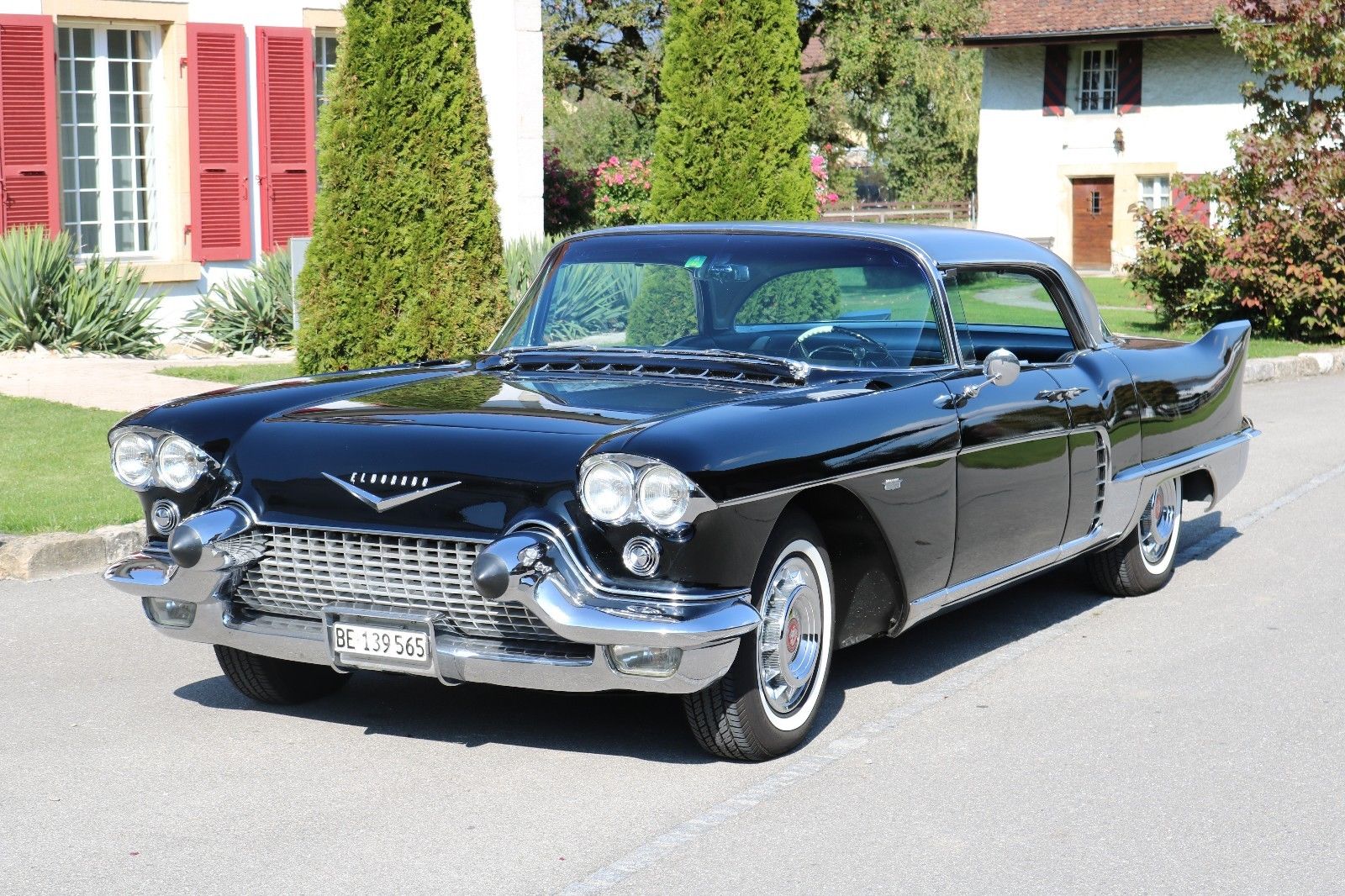 This is a 1957 Cadillac Eldorado Brougham. This is another car I would love to own, but these are not cheap just like they weren't cheap when they were introduced. Their price when new was $13,074. Two Cadillac models were available for less than $5,000 that year. The average price of a 1957 Cadillac, not counting bare chassis and weighted for number of sales by model (yes, I have OCD), was about $5,200. Not surprisingly, even Cadillac buyers consider(ed) price; the two models priced under $5,000 were the two best sellers accounting for 40 percent of the make's sales.
The Brougham was also a car of innovation. It had self-leveling air suspension; however, this system didn't really work and many owners replaced the system with coil springs. It also had the first automatic two-position "memory" power seats in addition to low-profile tires, automatic trunk opener, cruise control, high-pressure cooling system, electric antenna, automatic-release parking brake, electric door locks and a dual heating system.
Only 704 of these were produced during its run in model years 1957 and 1958. Perhaps these cars were also a victim of the 1957-58 recession.
Other notable events for 1957:
Both Nash (founded in 1916) and Hudson (1909) were discontinued after the 1957 model year. American Motors, the product of the merger between Nash-Kelvinator and Hudson in 1954, decided to cast its lot with the Rambler, a strategy that ultimately proved successful.
The Automobile Manufacturers Association formally banned factory-sponsored racing. Of course, that didn't stop "wildcat" racers with surreptitious help from car companies from racing.
Chrysler Corporation introduced torsion-bar suspension in its models. Of course, Packard had introduced its Torsion-Level suspension system in 1955, but that was far too late to save the company. Chrysler used its system until 1992.
Speaking of Packard, while the name survived, the 1957 model year was the first of two in which the cars were just badge-engineered Studebakers. Only 4,497 "57th Series" Packards were produced.
I could write much more, but will stop here. As always, I welcome thoughtful comments.
#ThreesAndSevens
#1957
#somanyCARSjustonelife
#disaffectedmusings
If you like this blog please tell your friends and share the blog URL (https://disaffectedmusings.com). Thanks.