Of course, it was on this day in 1963 that President John Kennedy was assassinated in Dallas, Texas. Although I was quite young, not even old enough to attend kindergarten, I remember the day.
I was with my mother while she was watching television, one of her soap operas, when she started screaming. I looked at the TV and heard the news that the President had been shot. She calmed down after a few seconds, but when the news broke later that he died (I can't remember the exact interval, but think it was a half-hour) she screamed again. Obviously, I can't blame her.
I also remember watching Lee Harvey Oswald being shot on TV two days later. Although I think interest in the Kennedy assassination has waned a bit in the past few years, it spawned quite a cottage industry in books and movies about various assassination theories and conspiracies. So, what do I think? Well, read Mortal Error by Bonar Menninger, which is based on the work of Howard Donahue who was a Baltimore ballistics expert. I can't really summarize the book in a couple of sentences, but in my opinion, while Oswald did fire shots at President Kennedy, the President died as a result of an accident when a Secret Service agent (whom I shall not name, but whose identity is "known") grabbed a weapon upon hearing the first shot. The weapon accidentally fired and that bullet killed Kennedy. The subsequent cover-up of events was executed so the Secret Service, in a position to cover up the facts, would not be the subject of intense scrutiny and, possibly, be dismantled.
By the way, I first became aware of this theory in Bill James' excellent book, Popular Crime, which was published in 2011. In my copy the Kennedy assassination is discussed on pages 253-265. As Bill writes, Menninger's book is "stupefyingly dense…and for that reason has little power to persuade."
******************
So, is it disrespectful to note that on this day in 1893 legendary automobile designer Harley Earl was born? Although Zora Arkus-Duntov is called "The Father Of The Corvette" it was Earl who really "invented" the Vette. His inspiration came from seeing a large number of foreign sports cars parked along the parade route at Watkins Glen, New York in 1951 before a race. When he returned to Detroit after the race, Earl began to talk to his designers about a sports car for General Motors. The project, code-named "Opel" or the EX-122, became the Corvette.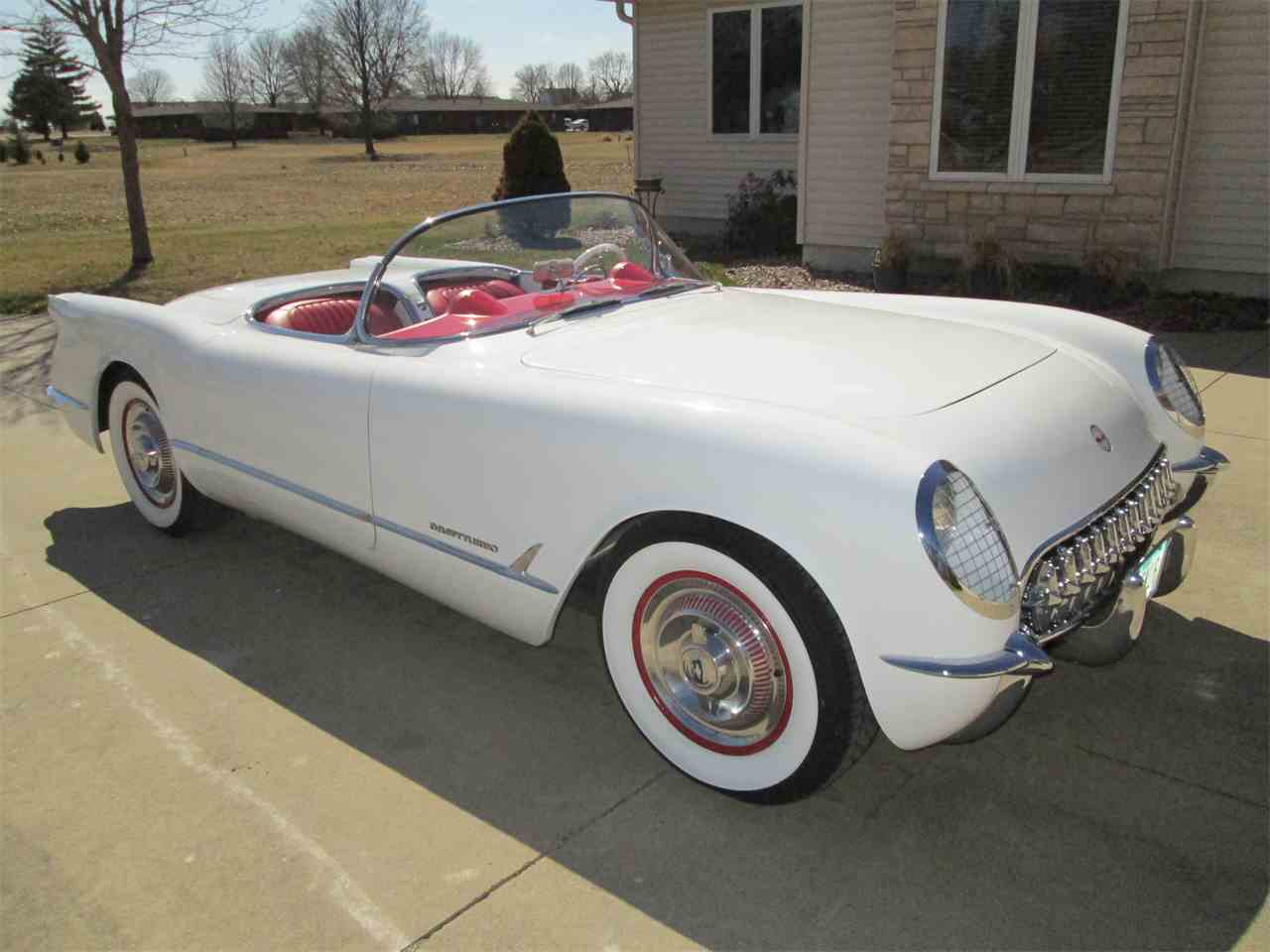 From classiccars.com a picture of a 1953 Chevrolet Corvette in Polo White over Red, as were all 300 '53 Vettes.
Harley Earl began working for GM in 1927 and eventually became the first Vice-President at a major automobile company whose background was in styling. GM was the first car company to have a department devoted to styling. At the beginning of the auto industry, the looks of a car were secondary to the engineering. Earl, with the blessing of GM President/CEO/Chairman of the Board Alfred Sloan, changed that dynamic.
Wandering a bit…I think that for the 70th anniversary of the Corvette in 2023 Chevrolet/GM will introduce a hypercar version of the Corvette. The car will have a twin-turbo V-8 engine, possibly with a flat-plane crankshaft, augmented by electric motors in the manner of the Ferrari LaFerrari or McLaren P1. This car will have 1,000+ HP and will probably be called the Zora in honor of Arkus-Duntov. It's too bad that Chevrolet/GM can't recognize Harley Earl in some way in conjunction with the Corvette, besides having his picture in the Skydome at the National Corvette Museum. Yes, Earl is in the Corvette "Hall of Fame," but I think more should be done.
#WhatDoYouRemember?
#MortalError
#HarleyEarl
#1953ChevroletCorvette
#somanycarsjustonelife
#disaffectedmusings
If you like this blog please tell your friends and share the blog URL (https://disaffectedmusings.com). Thanks.