Maybe I should have called this post Monday Musings, The Alaska Edition as in Alaska was the 49th state admitted to the US. No? OK…
This CNBC article is by Morgan Housel, a partner at The Collaborative Fund, behavioral finance expert and former columnist at The Wall Street Journal and The Motley Fool. He is also a winner of The New York Times Sidney Award and a two-time finalist for the Gerald Loeb Award for Distinguished Business and Financial Journalism. It is nine rules about life and money he wants his very young daughter (she was born in 2019) to know. While I don't agree with all of the manifestations or interpretations of these rules that he uses (and I acknowledge that's a little arrogant of me since they are "his" rules), I think most of the rules are quite sound. Leaving the elaboration for you to read yourself, here are the nine rules:
Don't underestimate the role of chance in life.
The highest dividend money pays is the ability to control time.
Don't count on getting spoiled. (Remember this is for his daughter.)
Success doesn't always come from big actions.
Live below your means.
It's okay to change your mind.
Everything has a price.
Money is not the greatest measure of success.
Don't blindly accept any advice you're given.
My interpretation of the first rule is one about which I have written here many times. People who think everyone gets what they "deserve" and who dismiss the role of luck/chance in life outcomes need an operation to have their heads removed from their rectums.
Living below one's means is the way my wonderful wife and I have lived for most of our marriage. People might say, "You both have late-model Corvettes and you live in a big house." Well, all of those things are owned free and clear, so we must not have stretched to or beyond our means to acquire them.
A former friend, one of the best men at my wedding, was incapable of changing his mind. I would argue that this inability has contributed to his life outcome being one that has made him bitter and also made him incapable of accepting his role in how his life has turned out. I also think that changing his/her mind is not automatically a bad thing for a public official. As Keynes is supposed to have remarked, "When the facts change, I change my mind. What do you do, sir?"
Everything has a price, which I interpret as nothing is free. Politicians who promise "free stuff" are lying to gain votes. Housel uses this rule to write about the trade-offs in life, something about which I have also written.
The last rule is another one that has appeared here often, although perhaps indirectly. EVERYONE has an agenda. Don't just accept what they're saying as being true. Have some discipline and use your mind to think.
******************
Perhaps because 56PackardMan has left the blog world or perhaps because the search for a Corvette Companion/Grocery Car is now focused on modern cars, I have not written much lately about defunct American makes like Packard. This article hit my email and I found it interesting. From said article, a picture: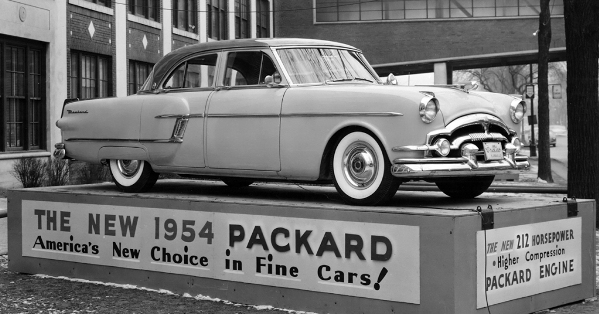 The article is about the end of the straight-eight engine era in American automobiles. Some have attributed the demise of Packard, at least in part, due to its being late in bringing out a V-8, not offering such an engine until the 1955 model year. Cadillac and Oldsmobile introduced a modern, overhead-valve (OHV), oversquare (bore greater than stroke) V-8 engine for the 1949 model year. Ford was later, but (finally) introduced its successor to the flathead in 1954, but the flathead dated to 1932 and it was a V-8. Chrysler introduced its first OHV V-8, and a hemi no less, in 1951. Even fellow independent make Studebaker introduced its V-8 in 1951.
A blog post is not the proper forum to discuss at length the reasons for Packard's demise. Indeed, many books have been written about Packard and its end. I think that like most life outcomes, the company failed due both to exogenous forces (e.g. the Chevrolet-Ford production "war", or "Ford Blitz," of 1953-55) and its own decisions like trying to use a small, body-stamping plant for the entire production process, which had major growing pains and led to quality control issues for much of the 1955 model year.
One theme about which I used to write quite a bit is that fewer companies producing cars means fewer companies to develop innovations in engineering and in styling. More competition is almost always better for consumers.
56PackardMan, if you're reading we would love to hear from you. I would also like to read thoughtful comments by all readers.
#MondayMusings
#NineRules
#TheEndOfPackard
#somanycarsjustonelife
#disaffectedmusings
If you like this blog please tell your friends and share the blog URL (https://disaffectedmusings.com). Thanks.