Congratulations to the LSU Tigers football team for winning the National Championship. I wanted them to defeat Clemson. Something I can't really articulate about Clemson head coach Dabo Swinney just rubs me the wrong way. Also, unless it's one of my favorite teams I don't like to see teams repeat as champions. Clemson won the title last year and in two of the previous three years. Oh, Clemson's team name is also the Tigers.
In my opinion, the most valuable person on the LSU team is passing game coordinator/wide receivers coach Joe Brady. He was an offensive assistant coach for the NFL's New Orleans Saints in 2017-2018 and brought a sophisticated NFL passing scheme and concepts to LSU. Of course, the players had to assimilate and execute those concepts and they did that very well, obviously. Still, it's like having a ringer.
Brady and the rest of the LSU staff were able to make meaningful in-game adjustments after Clemson's defense stymied the LSU offense for the first third of the game. Contrast that to the Baltimore Ravens' performance on Saturday night where they lost as a huge favorite at home in the NFL Divisional Playoff round in no small way due to their inability to adjust to what the Tennessee Titans were doing on defense. Of course, in the Ravens game it was NFL coaches vs. NFL coaches.
LSU QB Joe Burrow, winner of the 2019 Heisman Trophy by the largest margin in the 80+ year history of the award, thrived in Brady's system throwing 60 touchdown passes in LSU's 15 games. He is very likely to be the #1 overall pick in the NFL draft in April. (If so, Burrow will go from the Bayou Bengals to the Cincinnati Bengals.) Clemson QB Trevor Lawrence is the current odds-on favorite to be the #1 overall pick in the 2021 NFL draft. I guess that's a football constant; having a great QB is very important. Vince Lombardi used to "complain" that the QB was too important in a team game like football.
I will opine again that I think the College Football Playoff needs to expand to eight teams, the winner of each of the Power Five conferences and three at-large teams. Still, the current system is much better, in my opinion, than either the BCS (which, to me, stood for Bullsh*t Concoction System) or the old way of subjective "coronation" of a champion.
******************
Freedom of speech doesn't mean anyone else has to listen and that "freedom" doesn't relieve anyone of the obligation to speak with command of the facts. More people need to adhere to the famous dictum, "Better to remain silent and be thought the fool than to open one's mouth and remove all doubt." An aside: while that remark has been attributed to everyone from Abraham Lincoln to Mark Twain, its origin is actually unclear.
******************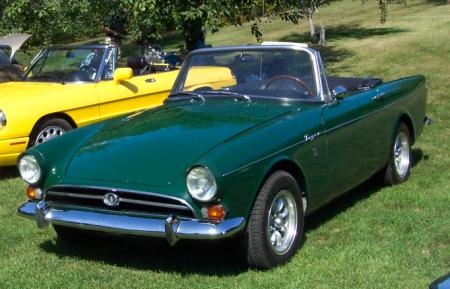 From Car Gurus a picture, of course, of a 1967 Sunbeam Tiger. At the recently concluded Mecum auction in Kissimmee, Florida five of these were among the 3,500-ish lots offered for sale. Only one sold, however, hammering for $75,000 ($82,500 all in).
As most auto enthusiasts know the Sunbeam Tiger is often called "The Poor Man's Cobra." It is, indeed, a similar concept to the Shelby Cobra, a small, two-seat roadster of British origin powered by an American V-8. As regular readers of Disaffected Musings know I am enamored of two-seat roadsters with small-displacement V-8 engines like the Tiger and the 289 Cobra.
A little more than 7,000 Tigers were produced by the Rootes Group from 1964 to 1967. Initially, the cars were powered by a Ford 260 cubic-inch V-8, but as Ford increased the displacement of that engine to 289 cubic inches Tigers were given that engine. Production of the Tiger ended when Chrysler Corporation acquired Rootes, didn't want to use an engine built by another company and didn't have a suitable small-block V-8 of its own.
Despite current trends in the American automobile market, I still hope for a revival of cars like this especially given all of the empty-nester and single-person households in the US. That hope is probably in vain, but what is life without hope?
#LSU
#SunbeamTiger
#somanycarsjustonelife
#disaffectedmusings
If you like this blog please tell your friends and share the blog URL (https://disaffectedmusings.com). Thanks.