At the risk of alienating most of my regular readers whom, I suspect, read for the cars…
As some baseball fans may know, on this day in 1968 Frank Thomas and Jeff Bagwell were born. Both are enshrined in the National Baseball Hall of Fame. Both were first basemen although Thomas, aka The Big Hurt, spent much time as a designated hitter. Not surprisingly given their birthday, they were both selected in the 1989 baseball draft; Thomas was the 7th overall pick by the Chicago White Sox. Many baseball fans know that Bagwell, a native of New England, was drafted in the 4th round by the Boston Red Sox, but was traded to the Houston Astros before he ever played in the major leagues in what turned out to be one of the most lopsided trades in baseball history.
I don't have any Bagwell stories, but I have some Frank Thomas anecdotes. Thomas, now a spokesperson for an alleged testosterone booster among other endeavors, played collegiately at Auburn University. Major league teams' amateur scouting was (is?) arranged in "layers." The area scouts, given that name because they are assigned to a geographical area, send reports to their teams on players in their coverage zone. Teams have scouting supervisors or cross-checkers, these are almost always more experienced scouts, who look at players recommended by area scouts. Then, the team will have a scouting director and, perhaps, other senior scouts to look at the top prospects.
The area scout who covered Auburn for the team I worked for in 1989 did not think Thomas was a good prospect. Players were rated on their individual skills, or "tools," and given an overall rating as well. These grades were given on a 20-to-80 scale with 50 being major league average. For a player to be cross-checked the area scout had to give him an overall grade of at least 50.
Our area scout gave Thomas an overall grade of 48. However, our scouting director knew Thomas would be a first-round pick so he sent a cross-checker to evaluate him. The cross-checker gave Thomas an overall grade of 62, I think, which was a grade for a first-round prospect.
"My" team had the first overall pick in the draft and selected a much-heralded pitcher named Ben McDonald. McDonald had received overall grades in the 70s, which was almost unheard-of. Regardless, he never lived up to the hype. He had a major league career of some length, but played fewer than ten seasons, had under 100 wins and never made an All-Star team or won any awards.
Besides being derailed by injuries, which is quite common for pitchers, I believe he was mishandled by my team including being rushed to the major leagues. To be honest, he was also not the sharpest tool in the shed. Many successful starting pitchers are intelligent; think Bob Gibson, Tom Seaver, Jim Palmer, Sandy Koufax.
Getting back to Frank Thomas…both he and McDonald played regularly in the big leagues during the second half of the 1990 season. After the season, I wrote a memo to my superiors suggesting the team look into trading McDonald for Thomas. I was the subject of much derision.
Even after Thomas had become a big star in the majors, the area scout who had not rated him highly was skeptical of his having continued success. I wonder if he still thought so after Thomas was elected to the Hall of Fame in his first year of eligibility.
Thomas' and Bagwell's teams faced each other in the 2005 World Series with the White Sox defeating the Astros. Neither player was a factor; Thomas didn't play at all in the postseason due to injury and Bagwell was limited to being a pinch-hitter/designated hitter due to the chronic shoulder injury that would end his career.
Thomas was an outspoken critic of those players who had used steroids and was the only active player who agreed to be interviewed for the Mitchell Report in 2007. Bagwell's career was tainted by his admission that he used androstenedione, which at the time was not banned by the FDA or by Major League Baseball. That admission could help to explain why he was not selected to the Hall of Fame until his seventh year of eligibility despite his tremendous performance.
I will not bore the majority of you by reciting statistic after statistic about both players' careers, even though statistical analysis of baseball players performance was what I did for a living for 20+ years and even though I am a pioneer of sports analytics and a "father" of Moneyball. Thomas was a two-time AL Most Valuable Player and Bagwell also won the MVP award, considered the most prestigious one for season performance.
Oh…I was working for the Oakland A's as a consultant when they signed Thomas as a free agent in January, 2006. I was in their suite at the Baseball Winter Meetings in December, 2005 when someone knocked at the door. I was the closest to the door so I got up and opened it. It was Frank Thomas. He was a LARGE man basically filling the entire doorway. I welcomed him in and then excused myself and left.
Happy Birthday to The Big Hurt and to Bags!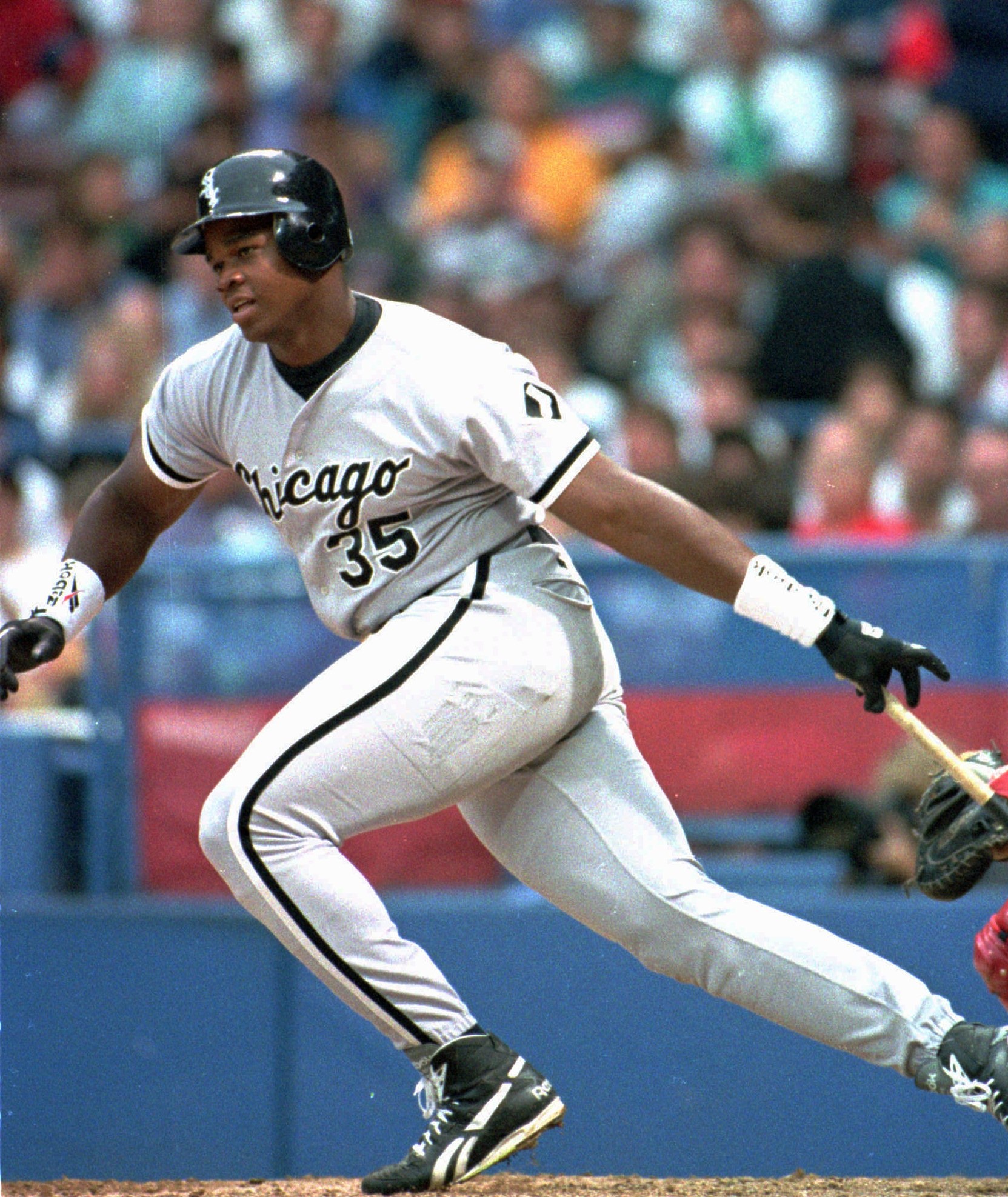 The top photo of Frank Thomas is from Associated Press and the picture of Jeff Bagwell is from the Houston Chronicle.
#FrankThomas
#JeffBagwell
#disaffectedmusings
If you like this blog please tell your friends and share the blog URL (https://disaffectedmusings.com). Thanks.