No doubt, this will seem like a manifestation of petulance, but if today's installment of Threes And Sevens fails to reach a certain number of views, then I will not finish the series. These posts require a lot of research and I will not write to a vacuum.
1953 was, in many ways, a watershed year in US automotive history. So much of significance occurred that it is difficult to pick a starting point.
Automobile production controls were lifted in February, 1953 by new President Dwight Eisenhower. The Korean War was the reason for those regulations and, of course, that war ended in July, 1953.
With controls lifted and with the Korean War not needing the type of domestic rationing seen in World War II, making "post-war" adjustment easier, calendar year production soared by 42 percent compared to 1952 reaching 6.1 million cars. For model year 1953, Chevrolet just topped Ford with production reaching 1.35 million cars while Ford produced 1.25 million. Chevrolet 1953 calendar year sales were 1.48 million. Sorry, but this is one of the rare times that the standard catalog of® American Cars 1946-1975 has let me down; it doesn't show 1953 calendar year data for Ford and I couldn't find that figure anywhere else.
This was not just a continuation of the decades-old rivalry between the Bow Tie and the Blue Oval. From 1938 to 1952, inclusive (and granting that no cars were produced from February, 1942 to July, 1945), Ford beat Chevrolet in sales just twice. Henry Ford II was determined to get Ford back to the top. The company launched an all-out production "blitz" in 1953 as the auto industry shifted back into high gear with the end of the Korean War. Forced to sell cars they hadn't ordered, Ford dealers resorted to heavy discounting. Chevrolet had no choice but to follow, the race was on and the rest of the auto industry suffered.
I don't think it's hyperbole to state that this battle between Ford and Chevrolet is, ultimately, what doomed the Independents like Studebaker and Packard. Chrysler also suffered, but had the resources to survive and to adjust.
In 1950, the Independents had a market share of more than 10 percent. By the time the "blitz" ended in 1954, their share had been cut almost in half. Of course, it's no coincidence that 1954 saw Hudson and Nash merge to form American Motors and saw Studebaker and Packard merge. The most significant catalyst for those mergers was the Ford-Chevrolet battle that began in 1953.
Backtracking a bit, below is a photo of Chevrolet's most popular car for the 1953 model year, the 210/DeLuxe 4-door sedan:
Chevrolet produced 332,497 of these that year. Of course, 1953 marked the introduction of another Chevrolet model, one with which you're familiar:
The Corvette was first publicly displayed at the General Motors Motorama event at the Waldorf-Astoria hotel in New York in January, 1953. Production began on June 30. Of course, the Corvette has become an iconic car and brand and is now in its eighth generation with total sales not far from two million. In 1953, Chevrolet sold 300 Corvettes.
The 1953 Motorama also featured other concept cars, called dream vehicles. These were the Pontiac Parisienne, the Olds Starfire, the Buick XP-300 and LeSabre, and the Cadillac LeMans. The Motorama "toured" for six months drawing 1.7 million visitors. Once again, it is sad to me that Buick had two concept cars at the '53 Motorama and now no longer manufactures cars of any kind, only SUVs. Here is a picture of the Pontiac Parisienne concept car.
1953 was the first year that at least half of all new US cars were equipped with automatic transmissions. In that vein, Chrysler began installing its first fully automatic transmission, the PowerFlite, in June. Remember that just 15 calendar years prior, and fewer than 15 production years with the World War II halt to car production, fully automatic transmissions did not exist.
American cars began to adopt 12-volt electrical systems, replacing six-volt systems, in 1953. 12-volt remains the standard to this day although the conversion to electric vehicles will change this paradigm, of course.
Model year 1953 saw the introduction of the "Loewy" coupes by Studebaker. I wrote about these cars in depth almost three years ago. Suffice to say that they were a styling tour de force, but were not enough to save Studebaker.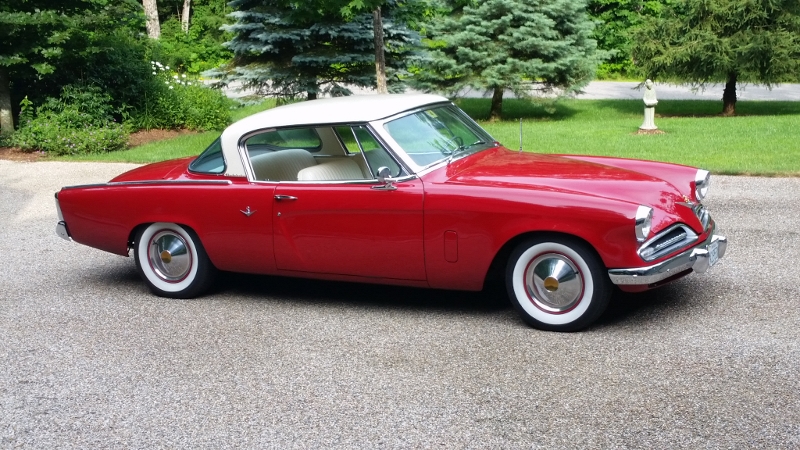 I hope I have been able to convey the significance of 1953 as it relates to the US automobile industry. As always, I welcome thoughtful comments.
#ThreesAndSevens
#1953
#GMMotorama
#ChevroletCorvette
#somanyCARSjustonelife
#disaffectedmusings
If you like this blog please tell your friends and share the blog URL (https://disaffectedmusings.com). Thanks.