The memory of this dream is fading even as I write…
I dreamt I was at a baseball confab like the annual Winter Meetings. Somehow, I knew I didn't belong there and didn't interact with anyone. The venue was a luxurious complex (the Baseball Winter Meetings are never held at Motel 6) with a huge and airy lobby. Outside, opulence seemed to be the idiom. I saw long limousines—all in a weird, almost electric light green (once again, so much for men not being able to dream in color)—and other luxury vehicles.
As the meetings came to an end I went to look for my suitcase/travel bags. I found a large bin with many bags and simply grabbed what I hoped were all of my bags and just my bags.
Next thing I knew I was in Baltimore (where I was born and raised), still schlepping my bags and trying to find a way to my mother's house. (My mother died in 2004, but was alive in this dream, apparently.) At first, I thought I would have to walk and as dusk was approaching this was not a pleasant scenario. This part of the dream is consistent with MANY dreams I had when I was younger that saw me attempting to walk home, often through dangerous neighborhoods, as dusk fell. In this dream, though, I stumbled onto a taxi and after I entered the cab I woke up.
Oh, the coronavirus was part of this dream. Out of habit I extended my hand to shake hands with the cab driver. Reflexively, he reciprocated, but then frowned as we both seemed to understand that this was not the time to shake hands.
What can I say except that it is hell to live inside my brain.
******************
How many of you have watched Car Fix on Velocity/Motor Trend? This show airs right before episodes of All Girls Garage on Saturday and Sunday mornings.
For the first eight seasons Car Fix was hosted by Lou Santiago and Jared Zimmerman. The latter also had a credit as a "Technical Producer" for his show and All Girls Garage. Season Nine premiered this past Saturday, with two new hosts (Bryan Fuller and Jeremy Bumpus) and, except for Fuller saying "Welcome to the new Car Fix" in the intro, one wouldn't know anything had changed if this were their first time watching the show. I took a few minutes and searched the Internet for any news about the change, but found nothing.
I am curious as to whether or not Cristy Lee's departure from All Girls Garage is related to the departure of Santiago and Zimmerman. Maybe Brenton Productions, the company that produces both shows, needed to cut costs. From blogarama a picture of Santiago (R) and Zimmerman (L):
I enjoyed the show with the original hosts; the Season Nine premiere seemed flat, but I could just have been disoriented by the sudden, unannounced change.
******************
George: "…For I am Costanza, Lord of the Idiots."
Woman Watching Race: "You're all winners!"
George: "Suddenly, a new contender has emerged."
Using that to segue to the search for a Corvette companion…a new car has emerged as a strong contender. (It is up to you to decide if I am like George Costanza.) It is a defunct model although not from a defunct make. It is a 21st-century car, which means it will be much more practical to own. This model has a long and distinguished history and would easily fit the bill as a grocery car. From Car Gurus a picture of a 2007 Chevrolet Monte Carlo SS: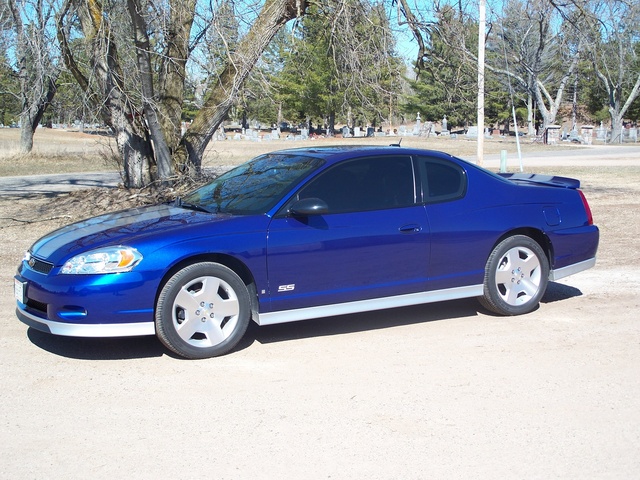 We wouldn't have to have a 2007 as a 2006 SS would do. Why an '06 or '07 SS? Because for just those two years in the last generation the SS was powered by a good old Chevy small-block V-8. More specifically, the 2006-07 Monte Carlo SS had a fuel-injected, 5.3 liter/325 cubic-inch (have to keep Bill Stephens happy) V-8 that produced 303 HP/323 LB-FT of torque. It also has 15 cubic feet of trunk space and two rear seats.
I have written about and showed this car before. I like the looks of almost every generation of Monte Carlo and this last generation is no exception. My wonderful wife really likes this car as well. Of course, 2007 was the last model year for the Monte Carlo and it seems highly unlikely it will ever return. Total Monte Carlo production for 2006-07 was just 43,456 units with only 14,829 of those being SS models. (Yes, as the child of Holocaust survivors I get a slight twinge hearing/reading the letters "SS." Chevrolet is not a German car.)
We will not have an easy time finding a nice example, but we are not in a hurry. Those that are offered for sale usually have a listing price under $20,000.
I would very much like to read your thoughts about this car. Thanks.
#MoreWeirdDreams
#CarFixShakeup
#2007ChevroletMonteCarloSS
#somanycarsjustonelife
#disaffectedmusings
If you like this blog please tell your friends and share the blog URL (https://disaffectedmusings.com). Thanks.