Today's post title was "inspired" by the expression "The Fog Of War." The latest example of the strange workings of my brain is a dream I had this morning.
I dreamt I was on my back porch–the house in the dream was not the house in which we live–and my wonderful wife was inside the house. We were both worried because our dog (we don't have a dog in reality), which was obviously a German Shepherd, would jump off the back porch to chase any small animal that wandered by. In particular, I was worried that the dog would break a leg or get hit by a car. However, the dog seemed to be able to jump off the porch and back on the porch with impunity, not that the dog would understand the word "impunity."
Of course, The Fog Of War refers to the uncertainty of battle, of not really knowing the enemy or even oneself and your fellow soldiers. I am in no way trying to belittle the sacrifices of soldiers in US history.
******************
I had originally written hundreds of words about the decline of Scientific American (into a wokeness rag) and of religion as outlined in Why Evolution Is True, but decided it would not make good reading for most of you. (You can check the blog out if you are interested.) Instead, I offer this Hemmings article from July as bolster for my belief that attending car auctions is not just for those who want to buy a car. The intro to the piece somewhat ties into my now deleted writing:
"Have you attended a collector-car auction? Admittedly, only religion and politics are likely to stimulate more spirited conversations than collector-car auctions. Hobbyists generally describe the auction/hobby relationship with one of two four letter words: boon or bane. May I suggest other possibilities?"
Bob Palma, the author, listed four reasons to attend an auction without any intent to buy or to sell. The first had the most resonance to me and is something I have written before: "An opportunity to see cars (or trucks, etc.) you'll likely never see anywhere else…" Here is a picture from the Hemmings piece that illustrates the point: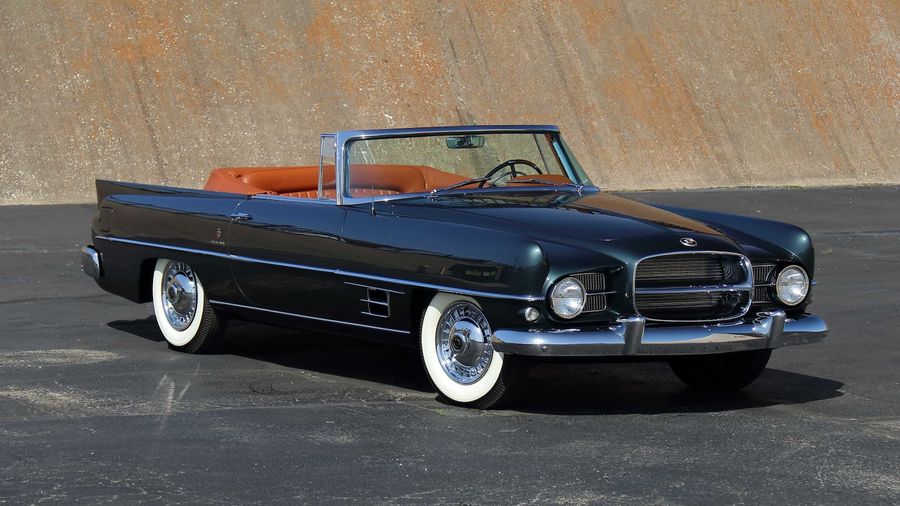 This is a 1957 Dual-Ghia convertible, of which only 117 were made. I don't think you're likely to see one where you live. One of these, in Maroon over Beige, was offered at the recent Mecum auction in Monterey. It was bid to $325,000, but didn't sell.
Even in the part of Arizona in which we live I have never seen a Dual-Ghia "in the wild." I have also never seen this car with which I have become obsessed:
This is a 1961 Ferrari 250 GT Pininfarina coupe. Not that this blog will continue long enough for me to offer Ultimate Garage 4.0, but this car would obviously be included.
The probability that I someday buy a car at an auction is certainly not zero, but is also no more than 50-50. I still hope to attend many more auctions while I can and when my wonderful wife retires (whenever that will be) we can attend many more, hopefully.
#TheFogOfMyBrain
#AttendACarAuction
#Dual-Ghia
#1961Ferrari250GTPininfarina
#somanycarsjustonelife
#disaffectedmusings
If you like this blog please tell your friends and share the blog URL (https://disaffectedmusings.com). Thanks.