Anyone remember these? This picture from Pinterest reminds me of one of my absolute favorite snacks when I was young. I would eat Tastykake Chocolate Kandy Kakes and then have some Tid-Bits as I loved (still do) chocolate followed by salty.
Anyway…not really the tidbits I meant in the post title, but what the hell…
This car mentioned in yesterday's post is out of the running. It turns out the car was manufactured too early in the model year (mid-October of 2015) to have had the 8L90E issues corrected at the factory.
Never fear, right? Another one is on the way, right? Sure enough, about a half hour after I eliminated this car I found another one with fewer miles, a lower price and a higher VIN. Too good to be true, right? Right…after I contacted the dealer I received a call saying that "Car #2" had already been sold. I told the young lady that the listing seemed too good to be true.
I am driving myself crazy (a short drive I grant you) looking at these listings online. However, I have come to the conclusion that it is a virtual certainty that whenever I decide to pull the trigger I will be able to find a good car.
******************
People born in 1954 have turned or will turn 65 this year, the "retirement age." Of course, I have been (involuntarily) retired since my early 50s. Have I mentioned my loathing of the American obsession with credentials and age discrimination? <end sarcasm>
What was happening with American automobiles in 1954? For my amazing niece, I can tell her that Packard introduced tubeless tires about a year ahead of the other American makes. Packard also introduced this: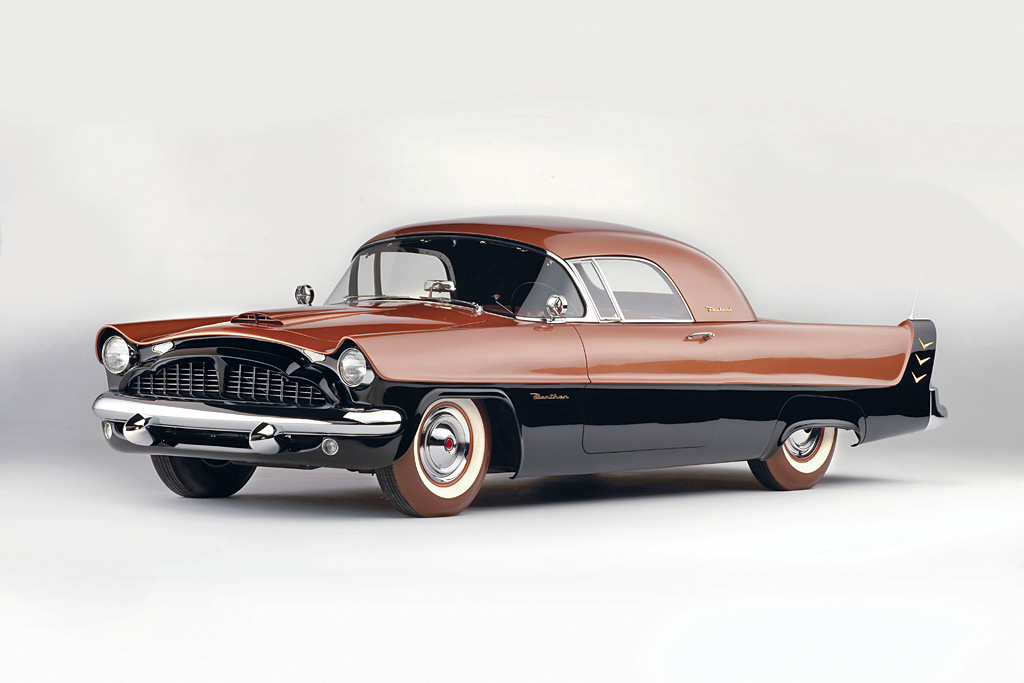 From supercars.net a picture of the Packard Panther Daytona Roadster concept car. Initially this car was called the Grey Wolf II after a famous Packard race car of the early 20th century.
The Panther was made of fiberglass, which made its lightning transformation from approval to actual car easier. Dick Teague was the designer of record. Packard chief stylist Ed Macauley and engineering VP William Graves were heavily involved as well. The latter two were strong advocates of using modern design in order to improve Packard's standing and visibility. Of course, 1954 was also the year of the Studebaker-Packard merger (really, a Packard buyout of Studebaker), which shortly would be the final nail in Packard's coffin.
1954 was also the year that Nash and Hudson merged to form American Motors. Although the Studebaker-Packard tie-up was perceived to be more of a merger of equals, Nash basically bailed out a failing company in Hudson. From the beginning of 1954 until the April merger, Hudson lost more than $6 million on sales of less than $29 million, not exactly a good operating performance. Whether or not rumors of the merger hurt Hudson sales is impossible to know at this distance.
Ford replaced its ancient, but beloved flat-head V-8 in 1954 with a modern overhead-valve engine. The flat-head was introduced for the 1932 model year.
1954 also saw the introduction of this car:
From ultimatecarpage.com a picture of the unique Kaiser-Darrin sports car. Obviously, the fiberglass-bodied car was manufactured by Kaiser Motors and was a desperate attempt to gain attention and to stay afloat. Famous designer Howard "Dutch" Darrin designed the car, which was really more about looks than performance as it was "powered" an inline 6-cylinder engine of 161 cubic inches that was rated at just 90 HP.
Darrin was unhappy with the performance and later purchased 50 or 100 unsold cars (the number varies depending on the account) and put Cadillac V-8 engines in the majority of those cars. Those cars could reach 140 MPH although I doubt the car was safe at that speed.
******************
Although I no longer live in Baltimore or follow the Orioles or baseball, 1954 was the first year of the modern Orioles. From 1902 to 1953 the franchise played in St. Louis and was called the Browns.
I'm sure some local scribe has noted this, but both of Baltimore's major professional teams came from another city where they were called the Browns.
#somanycarsjustonelife
#disaffectedmusings
If you like this blog please tell your friends and share the blog URL (https://disaffectedmusings.com). Thanks.