It's been about two months since I published the 1,400th post on Disaffected Musings. Of course, I control the flow of writing, but am genuinely surprised that this is "only" post number 1,440. Just like the "1,000" logo supplied by WordPress when I published my 1,000th post, I think they will make a "1,500" logo available when (if?) I reach 1,500. It just seems to me, somehow, that I should be closer to that "milestone."
Speaking of posts, the Hall of Very Good Cars series is hanging by a thread. The combined number of views for the first installment on its day of publication and the day after was more than 50 percent below the average of the last ten posts. The only reasons I haven't already written the series off are: 1) it was not the only post among the last ten with that two-day view total, and 2) DDM's observation about the July 4th weekend having a negative impact on readership.
******************
Slow progress is part of life and isn't always a bad thing. In When Pride Still Mattered, David Maraniss' excellent biography of Vince Lombardi, the author recounts how W.C. Heinz, who wrote the legendary Run To Daylight! with Coach Lombardi, struggled at first to crystallize an idea around which to write a book about Lombardi.
"On the night after his [Heinz's] fourth halting interview session with Lombardi, he retired to the guest bedroom and struggled through a long bout of sleeplessness brought on by anxieties over the project. I'm getting out of this! he said to himself that night. This is impossible…"
Later the same night Heinz thought of a solution: a narrative about preparing for a specific game that would focus his effort (and Lombardi's) and allow him to weave in background material. To say the book was successful is an understatement: Run to Daylight! has had at least 23 printings.
The second book I had published was written with a co-author, Rob. At one time we were very close, but have drifted apart. Anyway…our original idea was simply to write a series of articles and essays about baseball. We wanted to call the book A Hitchhiker's Guide to Baseball or A Random Walk Through Baseball.
Without a clear direction we struggled to write the book. I don't remember what the "light bulb" moment was, but we moved the book in another direction (a theme similar to the one I wrote that The Wall Street Journal called without a doubt the best book of its kind ever written) and produced it in fairly short order (for a book, that is) after that. It sold fairly well, easily reaching five figures in sales.
I guess the lesson I am trying to convey is that instant clarity is not the norm and is certainly not as common as impatient people like me would prefer. Maybe I need to relearn that lesson.
******************
On this day in 1945, with World War II not yet over, Ford produced the first car since the government halted such production early in 1942. The War Production Board had announced on May 11, 1945 that it would permit automobile manufacturers to begin reconversion to civilian production on July 1. Obviously, Ford must have used leftover 1942 parts and tooling as it would have been impossible to convert its plants, primarily the River Rouge facility, in two days.
These were 1946 model year cars and Ford produced about 34,000 of them in calendar year 1945. I don't remember where I saw this figure, and couldn't seem to find it in my brief search, but the number that sticks in my head is that about 83,000 cars were produced by the US automobile industry in calendar year 1945. Most car companies were up and running by October, 1945 although Chrysler and Studebaker didn't re-start production until December.
Ford's early start helped it lead all makes in production/sales for model year 1946 at approximately 468,000 units. Overall industry production was 2.16 million or less than half the total from 1929.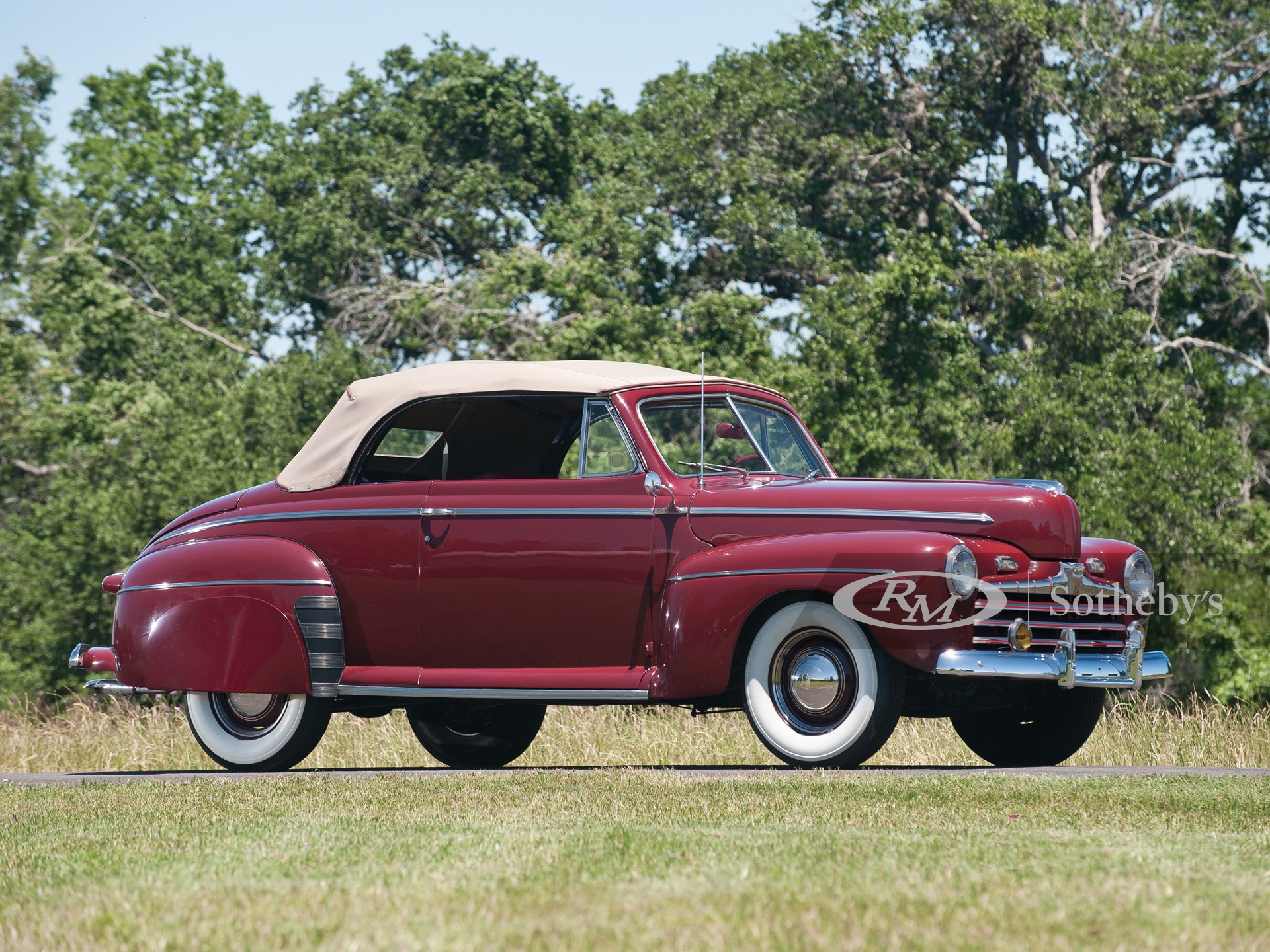 Obviously from RM Sotheby's is a photo of a 1946 Ford Super DeLuxe convertible. Ford produced 16,359 Super DeLuxe convertibles that year, or just 3.5 percent of its total output.
In the present day, I think companies would be more compliant with government edicts and decrees than individuals. I wasn't alive during World War II, but I simply cannot imagine the US population being united by anything these days to the degree it was during that war. Please feel free to disagree with that assertion.
#SlowProgressSunday
#ResumptionOfCarProduction
#somanyCARSjustonelife
#disaffectedmusings
If you like this blog please tell your friends and share the blog URL (https://disaffectedmusings.com). Thanks.