Once again, age-related memory issues have cost me the non-automotive content with which I had intended to begin this post. I KNEW I should have written it down, but did not.
1967 will be the last Threes And Sevens post before the US automobile industry entered the Dark Ages. I am, of course, referring to the government regulations and insurance practices that ended the first muscle car era in the early 1970s.
For me, 1967 will always be a special year because my first car was a 1967 Pontiac GTO.
This is not the first time these photos have been shown in Disaffected Musings. I have been asked quite often if I want to own another one of these cars. Too many people, frankly, assume the answer is "yes."
My affinity for Corvettes has manifest itself in the fact that I have owned three, one from each of three different generations. In general, I am not a fan of buying a "been there, done that" car. Buying a stock first-gen GTO would be doing just that. Given my recent experience with my Z06–which is still not 100% and will not be until a stock exhaust is installed–I don't think I would want to restomod a '67 (or '65) GTO and I wouldn't want to own/drive a stock example. The only way I might buy one of these cars is if my wonderful wife and I won A LOT of money in the lottery. That's about a one in three hundred million chance.
Still, I will always think fondly about my '67 Goat. I am sure that if my first car had been something more pedestrian I would not be the car aficionado I am today, even though my interest in cars predates the GTO.
For the second consecutive year, US car production declined after 1965's then record output of 8.8 million cars. The figure for 1967 was 7.6 million. Chevrolet topped Ford, building about 1.9 million cars for model year 1967 to Ford's 1.7 million. For calendar year 1967, Chevrolet produced about 2 million to Ford's 1.7 million. Once again, the Impala was Chevy's best-seller at about 650,000 units, including 74,000 SS models. Below, hopefully, is a picture of a '67 Impala SS:
1967 was, of course, the first model year for another celebrated Chevrolet, the Camaro. Pontiac joined the ponycar market with its own F-body model, the Firebird. Mercury introduced the Cougar and Plymouth the GTX although the latter was not its own model in 1967, but a Belvedere variant. What the hell, here are pics of all of these cars.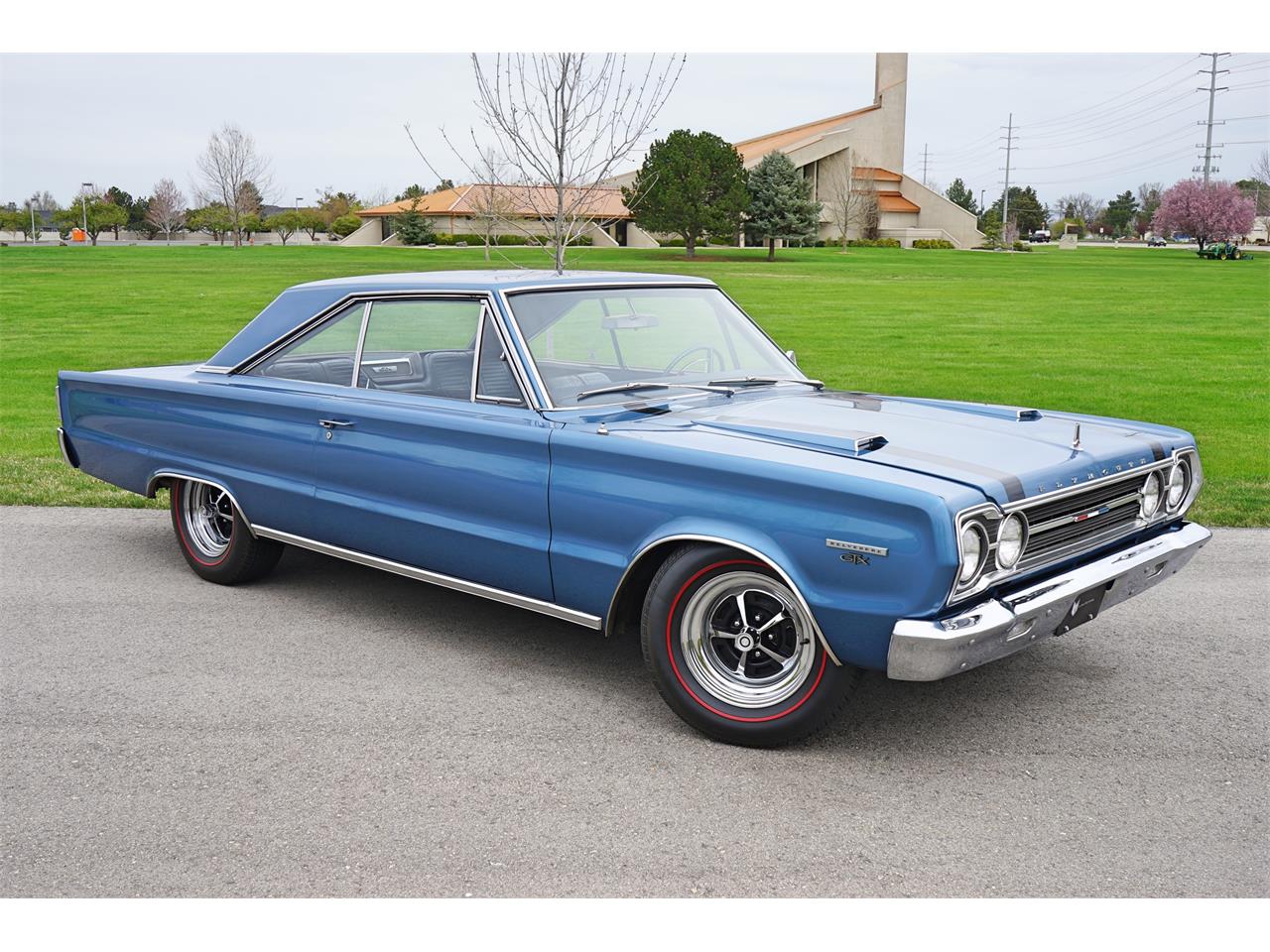 The standard GTX engine had the largest displacement of any "performance" engine at 440 cubic inches. (The Lincoln Continental motor displaced 462 cubic inches.) The Chrysler/Plymouth Magnum V-8 was rated at 375 HP/480 LB-FT of torque. The 426 Hemi was available as well.
One of my all-time favorite cars, an entry in my Ultimate Garage 2.0, was introduced for the 1967 model year, the striking Cadillac Eldorado.
A dual-circuit braking system was made standard on all US model year 1967 automobiles. That's one change I would make to any car no matter that it wasn't stock.
38 percent of US cars were equipped with air conditioning. I was not able to ascertain the percentage of cars sold with an automatic transmission. Given that percentage was about 75 percent in 1963 and the trend has been upward since then I think it's safe to conclude the number approached 80 percent.
General Motors, Ford and American Motors adopted a 5-year/50,000 mile, whichever comes first, powertrain warranty. With a minor change to 60,000 miles that is still the standard powertrain warranty for US vehicles today.
Once again, I very much welcome thoughtful comments. Thanks.
#ThreesAndSevens
#1967
#somanyCARSjustonelife
#disaffectedmusings
If you like this blog please tell your friends and share the blog URL (https://disaffectedmusings.com). Thanks.