Should I mention that Henry Ford died in 1947? I just did…
1947 was proximal to automotive years of significance, but not one in itself necessarily. It was the next-to-last year of production for the last American car powered by a V-12 engine, the Lincoln Continental (shown below, image from Hemmings).
The first model year for the beginning of the tailfin era was 1948, and unlike most model years where production begins late in the previous calendar year, 1948 Cadillacs were not produced until February of 1948. The first "modern" overhead-valve, oversquare V-8 was introduced by Cadillac in September, 1948 as a 1949 model year car. Of course, Oldsmobile introduced a version of this engine in January, 1949.
So, what did happen in the US auto industry in 1947? Production reached 3.56 million cars, far ahead of the figure for the transitional, strike-afflicted year of 1946 when total production was 2.16 million. It is worth noting, though, that 1947 production was still well below the figure for 1929, which was 4.45 million. The Great Depression laid waste to the US economy for a long time and recovery took a long time.
While World War II led to an economic boom during wartime, the adjustment to a post-war economy was not smooth. US GDP declined in real terms in three consecutive years, 1945-47. Most of the increase in real GDP from 1929 to 1947 occurred from 1940 to 1944 when US real GDP increased by 77 percent.
Enough with the economic data…Chevrolet led American makes in sales/production in 1947 with approximately 672,000 units. Ford was second (430,000) and Plymouth was third (382,000). Chevrolet's leading seller was the Fleetline two-door Aerosedan, which sold about 159,000 units. Here is, hopefully, a picture of that car: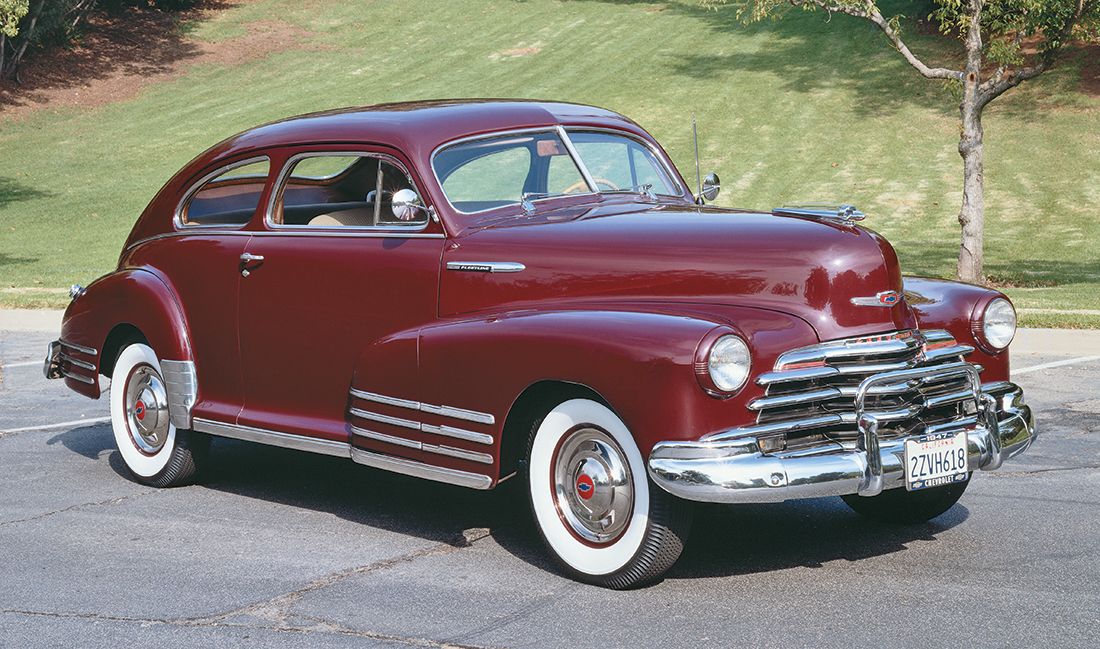 All 11 Chevrolet models for 1947, whether they were a Fleetline, Fleetmaster (that's not confusing) or Stylemaster, were powered by the same engine: an inline 216 cubic-inch 6-cylinder motor that produced 90 HP, but 174 LB-FT of torque.
Ford offered two engines for 1947, an inline-six and flathead V-8. Its best seller was the Super DeLuxe Tudor sedan with about 136,000 units. From a site that sells computer "wallpapers" is a picture of Ford's top car for 1947:
One of the confounding issues regarding writing about the US auto industry is the fact, as mentioned before, that model years didn't (and still don't) completely coincide with calendar years. For example, while most US cars of the immediate post-World War II era were just slightly facelifted pre-war cars, the 1947 model year saw the introduction of two new designs. One was by Kaiser-Frazer, a car company that did not exist before the war, and the other was by Studebaker. However, both of these new models were actually introduced in the 1946 calendar year. The American Auto by the Auto Editors of Consumer Guide® had this passage about 1947, "…in fact, the '47s received even fewer changes than did the '46s."
Some would argue that given production of the Tucker began in 1947 that year was significant. In my opinion, while the Tucker story is interesting, the fact that only 51 of them were produced diminishes the significance of the car in terms of its real impact on US automotive history. Mine is not a popular opinion for sure.
Convertibles accounted for almost five percent of sales in 1947 while station wagons were almost three percent. Even Crosley, maker of very small cars, added a station wagon to its 1947 model year lineup. It was already producing a convertible. OK, I'll show a picture of a Crosley station wagon (from Pinterest):
Crosley produced 1,249 station wagons in model year 1947, about 6.5 percent of its overall output. The Martin Auto Museum in Glendale, Arizona has a section of its floor space devoted to Crosleys.
As always, I welcome thoughtful contributions and comments about 1947 or any other relevant topic.
#ThreesAndSevens
#1947
#somanyCARSjustonelife
#disaffectedmusings
If you like this blog please tell your friends and share the blog URL (https://disaffectedmusings.com). Thanks.