It never ends…while we were washing my wonderful wife's Corvette yesterday I discovered a screw embedded in the tread of the right front tire. Run-flat tires cannot be patched, at least they're not supposed to be patched. After the new front tires are mounted today (you can't replace just one front or rear tire), my wife will be out about $900, less than a week after her $600 expense to replace the windshield, which led to my sunburn. Every f*cking day…
******************
My decision to continue "Threes And Sevens" despite the lackluster number of views for the first post is primarily due to one reason: the "Big Five" commenters. They are photobyjohnbo/JS, Dirty Dingus McGee, Philip Maynard, David Banner (not his real name) and Mark. In particular, Dirty Dingus McGee and Mark genuinely seem to appreciate almost any automotive content I publish.
In the first post, I wrote that I would refrain from writing about events outside the US auto industry. Looking at 1933, though, makes me realize that is not a good idea. The automobile industry doesn't exist in a vacuum and can be both cause and effect for events in other parts of the economy and country.
Although total US car production increased in 1933 by about 26 percent compared to 1932, the latter was the absolute trough in production during something called the Great Depression (yes, a poor attempt at sarcasm). Production for 1933 was less than half of that from just five years earlier and basically was equal to US production from 1916.
US GDP declined by 8.5% in 1930 compared to 1929, declined another 6.4% in 1931, by 12.9% in 1932 and, just for good measure, by 1.2% in 1933. Real US GDP declined a total of 26.3% from 1929 to 1933, inclusive. As a comparison, real US GDP declined by 2.7% from 2007 to 2009 during the Economic Crisis or "Great Recession."
Only four US makes reached the six-figure mark in production in 1933: Chevrolet, Ford, Plymouth and Dodge; those makes accounted for more than 80% of US sales. In 1928, every brand that made the top eight easily exceeded the 100,000 figure. The best-selling US car model was the Chevrolet Eagle 5-passenger coach at about 163,000 units, just surpassing the Eagle 5-passenger sedan at 162,000. Ford's best seller was the V-8 Tudor 5-passenger sedan at about 106,000 cars.
Trying to find a photo of the best-selling US car for 1933 is not as easy as one might think. Many photos of 1933 Chevrolets are of highly modified cars. Here is the best I can do; this photo is from standard catalog of® American Cars 1805-1942:
Yes, I know this is labeled as the sedan and not the coach. I couldn't find a picture of an unmodified coach. So sue me…
By the way, according to Encyclopedia of American Cars by the Auto Editors of Consumer Guide®, the Master (and accompanying Standard) line was not named as such until 1934. That book says that Chevrolet's two lines of cars for 1933 were called Eagle and Mercury. Like I keep writing, record-keeping has been poor for most of human history.
Elsewhere in the US auto industry in 1933:
Studebaker was forced into receivership. Although company president Albert Erskine made mistakes, including continuing to pay outsized dividends despite sharply declining profits, the proximal cause of the company's bankruptcy was the surprise national "Bank Holiday" declared by Franklin Delano Roosevelt days after his first inauguration. Erskine was about to execute a purchase of Ohio-based White Motor Company. The acquisition would have given Studebaker a solid position in the truck segment and given it access to White's decent level of cash reserves.
An effort by a minority of White shareholders to scuttle the deal led to just enough delay for the whole thing to be squashed by the surprise national bank closure, which led many companies–not just Studebaker–to suspend or to end operations due to lack of operating capital. Studebaker, which had actually shown a profit for 1929, 1930 and 1931 and whose market share had increased by more than 70 percent since 1929, was placed in receivership on March 18, 1933.
Erskine resigned the next day and, deeply in debt and in poor health but carrying life insurance policies worth $900,000 that did not include a suicide clause, committed suicide on July 1. Some automotive historians think Studebaker's eventual end as an automobile company was inevitable after the events of 1933.
Studebaker had acquired Pierce-Arrow, manufacturer of luxury cars, in 1928–not great timing as it turned out. In August of 1933, Pierce-Arrow was sold to a group of investment bankers. The company would finally succumb to the Great Depression in 1938, but not before producing this magnificent car in 1933: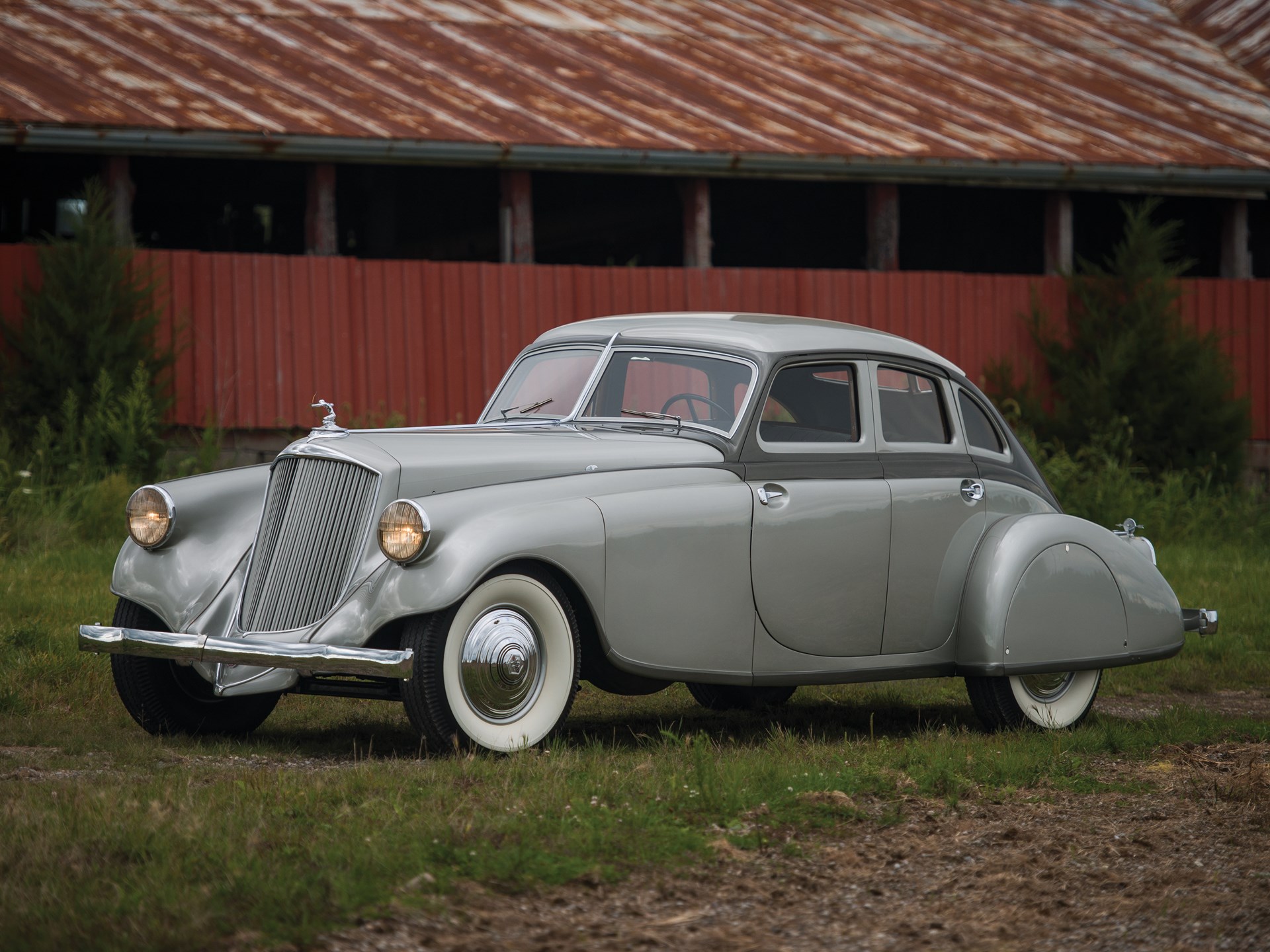 This is the famous 1933 Pierce-Arrow Silver Arrow, advertised as "in 1933 the car of 1940." Five were built and one paced the Indianapolis 500.
The other half of what would eventually be the Studebaker-Packard Corporation also had difficult times in 1933. Packard sales were just under 10,000, compared to almost 50,000 in 1928. By 1937, however, sales had exploded to more than 109,000, due in large part to the company moving "downmarket" with the introduction of the One Twenty in 1935 and the Six in 1936. Many automotive historians think these moves also led to the eventual downfall of Packard as it was unable/unwilling to re-focus on being a luxury make after World War II.
In 1933, General Motors President Alfred Sloan combined Chevrolet and Pontiac manufacturing to cut costs. He also merged Buick, Oldsmobile and Pontiac sales divisions forcing relevant dealers to sell all three makes.
Plymouth's 1933 sales surge that pushed it to close behind Ford was due in large part to using a six-cylinder engine as standard equipment instead of the four-cylinder motor it had previously used. Plymouth sales increased by 60% in 1933 compared to 1932.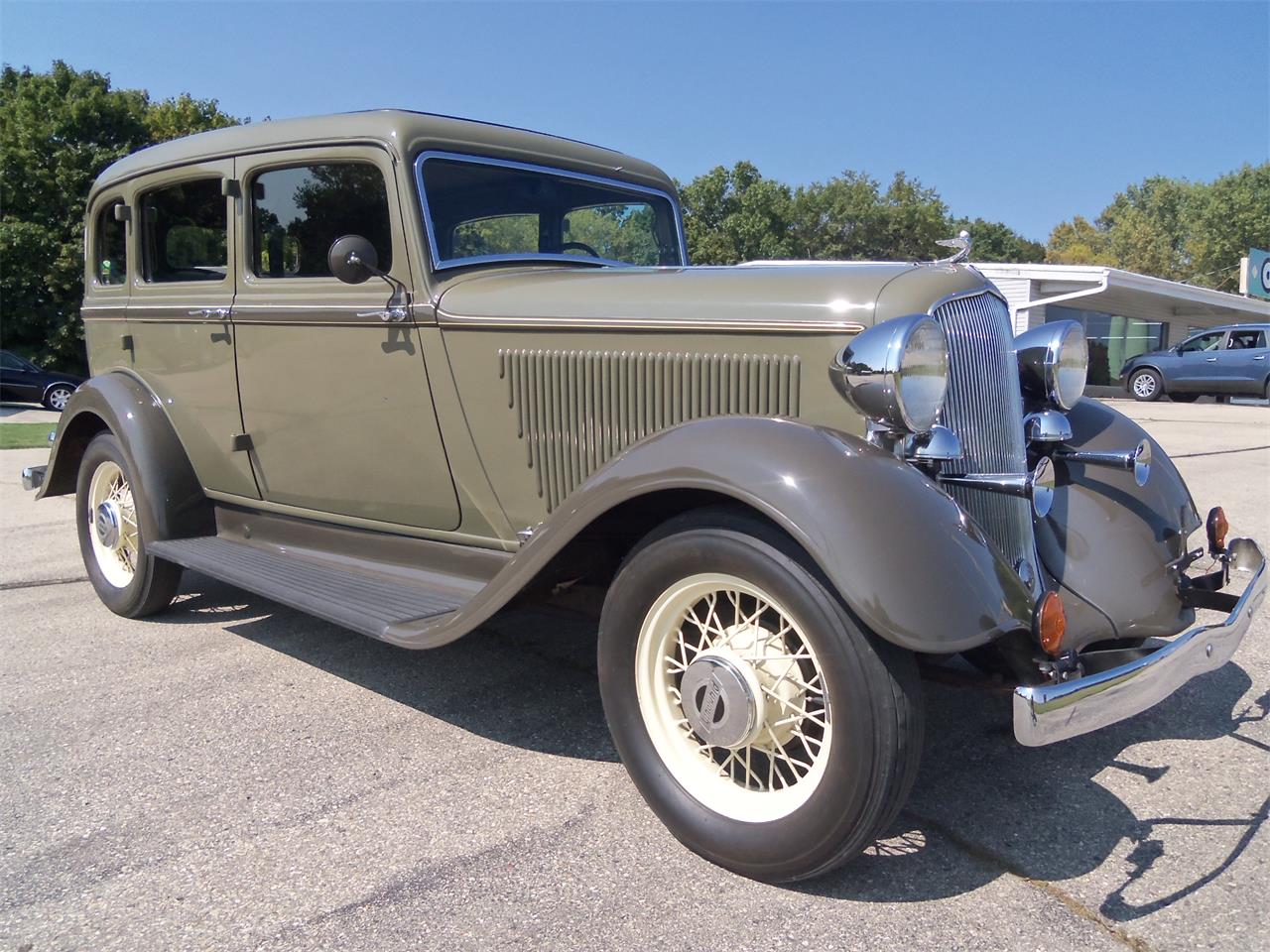 Hopefully, the photo above is a 1933 Plymouth.
I have written enough today about 1933. PLEASE feel free to give feedback on Threes And Sevens. Thanks.
#ThreesAndSevens
#1933
#somanyCARSjustonelife
#disaffectedmusings
If you like this blog please tell your friends and share the blog URL (https://disaffectedmusings.com). Thanks.