The "W" make became well-known for manufacturing something that wasn't exactly a car, but a vehicle that is still being produced today. John North Willys was a tremendously successful bicycle salesman and manufacturer, but after seeing his first automobile in 1899, he just knew they would replace the bicycle as the primary means of transportation.
Willys opened an Overland automobile dealership in Elmira, New York around 1900. From the Hemmings article about Willys:
"How one manages a defining moment in business, as in life, can plot a course to reverence or ruin. For John North Willys, an auto industry entrepreneur who made Willys-Overland a household name and built his own automotive-based empire, it was arguably, the instant that he realized his only way to avert a financial catastrophe was to take control of an ailing Overland in 1907."
From The Automotive Hall Of Fame:
"However, Willys encountered a problem. A capable salesman, he was able to sell cars faster than the factory could build them."
The Automotive Hall Of Fame piece paints a less bleak picture than the Hemmings article. Suffice to say that Willys bought the Overland Automotive Division of Standard Wheel Company in 1908 and in 1912 renamed it Willys-Overland Motor Company. That company finished second to Ford (albeit a distant second) in US production/sales every year from 1912 to 1918, inclusive, producing a total of 566,000 cars in that period. From Flickr, a picture of what is supposedly a 1913 Willys-Overland roadster:
As I have written many times before, I don't really have much interest in brass era cars. However, without those pioneers we would not have automobiles like we have today.
In 1915, Willys built a seven-story headquarters building in Toledo that was the most modern of its day. Before the end of the decade, one-third of the city of Toledo's workforce was employed at Willys-Overland or one of its suppliers. Labor troubles emerged at the Toledo plant in 1919, resulting in a strike that shut it down for several months.
According to the Automotive Hall of Fame, John Willys hired General Motors vice-president Walter Chrysler to help right the ship, but Chrysler tried to oust Willys in an attempted takeover bid that backfired. According to the Wikipedia article about the company, after the sharp recession of 1920-21, it was outside bankers who hired Chrysler to "sort out the mess." The Beaulieu Encyclopedia version agrees with Wikipedia and even names Chase National Bank, one of Willys-Overland's largest creditors, as the entity that insisted on the hiring of Walter Chrysler.
Once again, from Hemmings:
"Chrysler also brought in his own engineers to develop a modern six-cylinder car line that would bear his name, be assembled at the Elizabeth, New Jersey, plant and be a new division of Willys. It was not approved for production, however.
Despite many strides during the reorganization, receivership for Willys Corp. came in late 1921 and consolidation continued, with the New Jersey plant and New Process Gear two of the more notable casualties. Chrysler unsuccessfully tried to take over the company and then left in early 1922. He ultimately started his own famed automobile company."
John Willys was able to re-acquire Willys-Overland in 1922 with the help of Toledo businessmen and bankers. In 1928, the company reached the number three position in sales among US automobile companies behind only Chevrolet and Ford. The introduction of the low-priced Whippet in mid-1926 (as a 1927 model) boosted the company's fortunes. A picture of a 1927 Willys-Overland Whippet: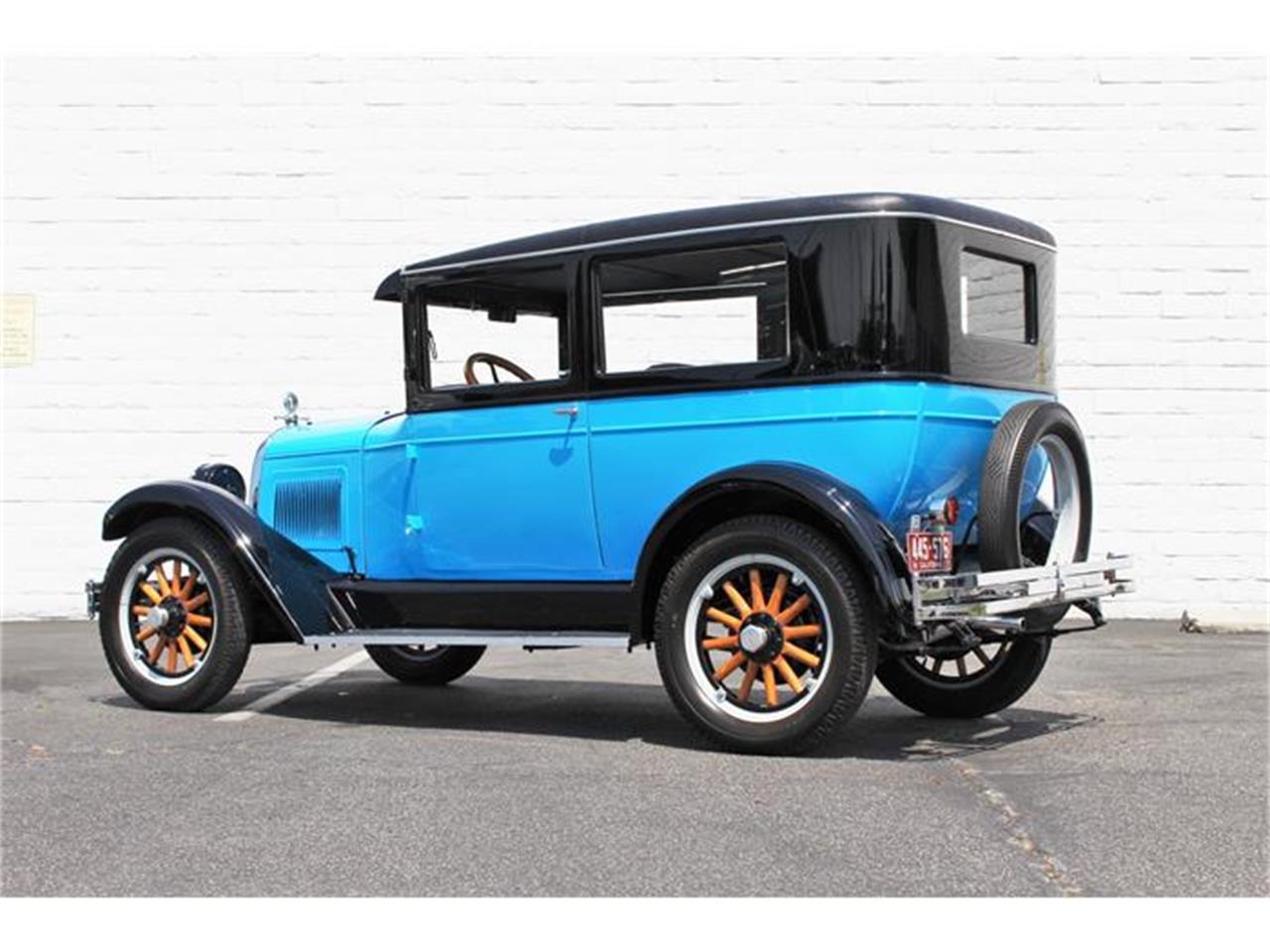 Whether he was astute or lucky, John North Willys sold all of his company stock for $18 million just months before the stock market crash in October, 1929. He became the first US Ambassador to Poland in 1930. He returned to try to save Willys-Overland in 1932, but the company, once again, went into receivership in 1933. Willys died from a stroke in 1935.
Of course, he was not alive when Willys became the primary contractor to build the Jeep for the US military during World War II. American Bantam had actually "invented" the Jeep, but the government did not think the small company could build enough of them so it awarded contracts to Willys and to Ford.
Immediately after the end of the war, Willys only built station wagons and the Jeepster (in addition to Jeeps), but resumed production of small cars in 1952 with the Willys Aero line. I have always been taken with the looks of this car. From Barrett-Jackson, a picture of a 1952 Willys Aero Ace.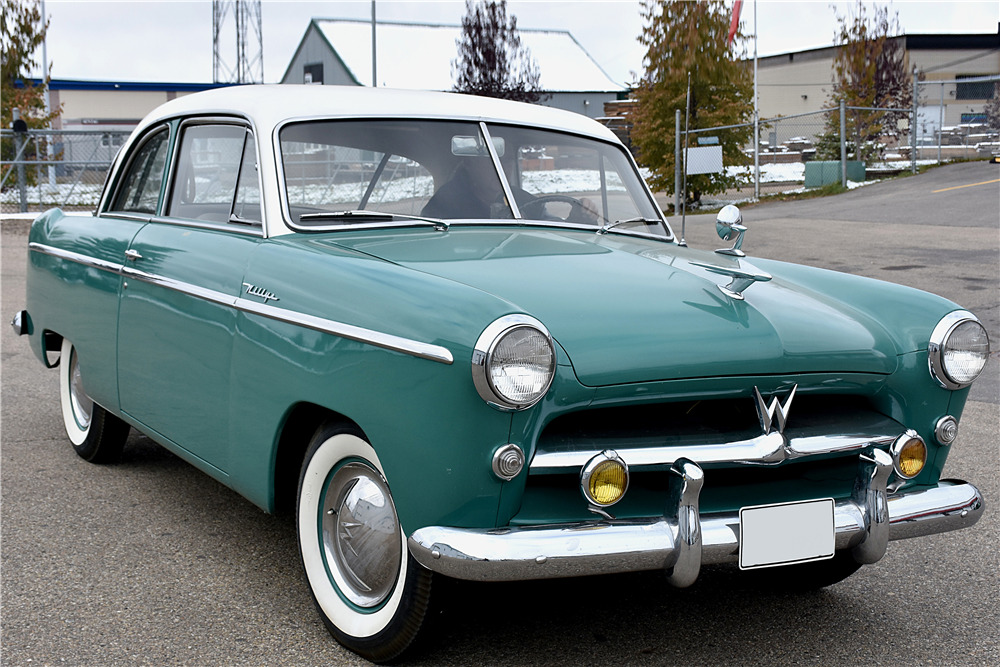 In 1953, Kaiser acquired Willys. Both makes ceased to be sold in the US after 1955 and the Willys name disappeared when the parent company changed its name to Kaiser Jeep in 1963, which itself ceased to exist when American Motors Corporation bought that company in 1970.
John North Willys and his company were very successful, but are forgotten today for the most part. Entrepreneurship should never be discouraged, but like every other paradigm is not optimal in excess.
This is the last post in the Cars A To Z series to feature one make by itself. The "X" "Y" and "Z" cars will be combined in one post later this week.
#CarsAToZ
#Willys
#somanyCARSjustonelife
#disaffectedmusings
If you like this blog please tell your friends and share the blog URL (https://disaffectedmusings.com). Thanks.