The family whose name is the "M" car never manufactured real road cars, only race cars. The Maserati brothers (five of the six brothers, actually, as the sixth was an artist) had been involved in building race cars since at least 1914. They were building race cars for Diatto when that company suffered major financial difficulties and withdrew from racing in the mid-1920s.
Alfieri Maserati took over the Diatto project and founded Officine Alfieri Maserari SpA in Bologna in 1926. The famed Maserati trident is actually the symbol of the city of Bologna.
In 1938 the remaining Maserati brothers (sadly, Alfieri died in 1932) sold their company to Adolfo Orsi, but nominally remained attached to the company with a ten-year consulting contract. Orsi moved the company to Modena where it remains to this day.
It was under Orsi's ownership that Maserati built its first real road cars. He wanted to continue to be involved in racing, but felt the real money would be in cars sold to the public.
Maserati has come close to liquidation more than once. In 1968, Citroën purchased a majority stake in Maserati. That partnership led to the amazing Citroën SM:
The SM was Motor Trend car of the year in 1972. Two years later, Peugeot bought about 40 per cent of Citroën as a first step to taking over the company. The new owner wanted nothing to do with Maserati and, combined with the OPEC oil boycott and resulting world economic downturn, it came close to bankruptcy, but was saved by Alejandro De Tomaso, who had built the legendary Mangusta and Pantera as well as one of my all-time favorites, the Longchamp.
Chrysler bought a small stake in Maserati in 1984, but De Tomaso sold the company to Fiat in 1993 after annual sales had fallen below 1,000. It has been rumored that Fiat bought Maserati under pressure from the Italian government to save the latter. By 1997, Ferrari SpA had purchased half of Maserati with the other half still owned by Fiat. The irony of Ferrari owning its former rival was not lost on anyone.
Of course, Maserati is now part of the Stellantis group which was created when Fiat Chrysler (the owner of Maserati) merged with the French PSA Group. Ironically, Maserati is–once again–part of the same company as Peugeot and Citroën, which were part of PSA.
As I have written before, my Maserati obsession started very early, when my age was still in single digits. This rendering was the spark:
This rendering of a 5000 GTI is from The Golden Guide To Sports Cars, which was published in 1966 and purchased by me in 1968 or 1969 through my elementary school's book buying program. One look at that and I was a Maserati guy.
Except for the MC-12, Maserati has never really made supercars. They have made great looking cars with good performance. The newest model, the MC20, is closer to being a supercar than previous models. A photo of said vehicle:
I am hoping to see one of these in person before too much longer. Of course, any mention of Maserati has to at least show the legendary Ghibli, the first Ghibli, manufactured from 1967 to 1973.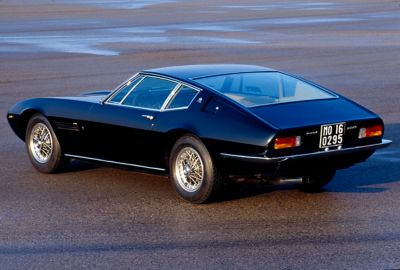 For part of my teenage years I thought this car was the best looking automobile of all time. It still looks great to me.
Even as part of a large automobile conglomerate, the future of Maserati is far from secure. Ominously, worldwide sales fell from 51,500 in 2017 to 19,300 in 2019 and that was before the damn virus. Sales fell another 12 percent in 2020. Even with an SUV as part of its portfolio and the "promise" of hybrids and pure EVs, Maserati seems to have lost its way. I don't know if any shining knight à la Alejandro De Tomaso still exists.
#CarsAToZ
#Maserati
#somanycarsjustonelife
#disaffectedmusings
If you like this blog please tell your friends and share the blog URL (https://disaffectedmusings.com). Thanks.