Talk about bait and switch…I tried to take a picture of the full moon this morning, but just couldn't line up a good photo. Instead, I offer a couple of other "nature" photos:
I took this picture on Monday during my exercise walk. I love when the clouds create shadows on the mountains. Some say this landscape is static because the mountains don't move. Well…first, if they move we're probably in trouble; second, the changing light during the day makes the landscape dynamic, in my opinion.
I don't think I'll be exercising today as I do not feel well the day after I received my flu shot. This is probably the worst I have ever felt the day after receiving my annual dose of flu vaccine.
******************
In Why Evolution Is True, the author once wrote that PSAs trying to get people to get vaccinated against the damn virus should tell or show horror stories about those who did not get vaccinated. This CNBC article reports that a Reddit thread "showing visitors the real-life consequences of being unvaccinated and catching the coronavirus" seems to have the desired effect in that some people who read the thread are "motivated" to get vaccinated.
According to the piece, 22% of Americans identify as anti-vaxxers. I wonder if the percentage is not even higher as some might be reluctant to admit something like that to a pollster. Once again from Louis Armstrong, "There are some people that if they don't know, you can't tell them."
******************
The picture below is from this Hemmings piece:
This is a Chevrolet crate motor, displacing 632 cubic inches and producing 1,004 HP/876 LB-FT of torque without supercharging or turbocharging AND on pump gas. Here is a chart of the typical dyno run as supplied by Chevrolet: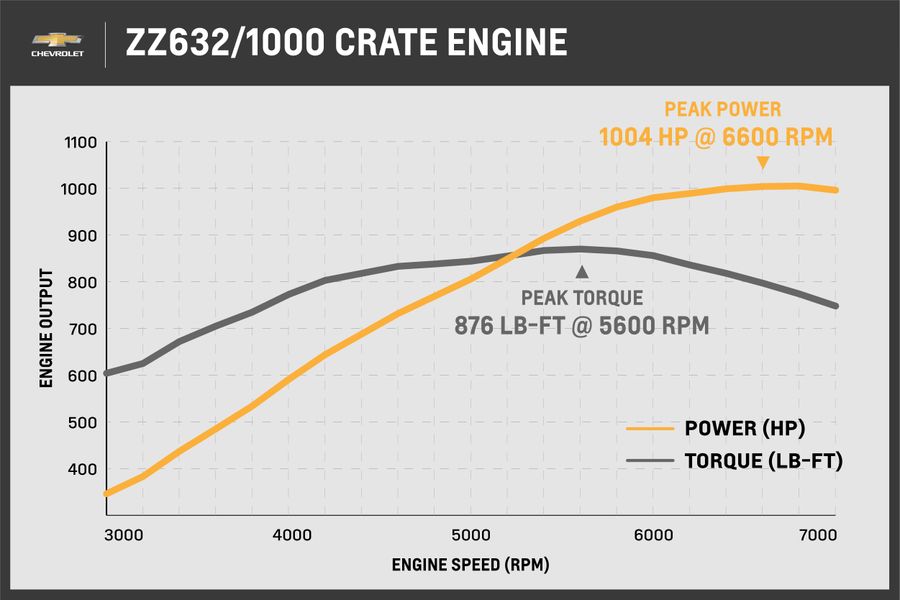 Speaking of dyno runs…when I picked up my Z06 at the dyno shop in late July, Joe (the shop owner) said something like I needed to add HP/Torque to the figures shown on the chart because of "lock-up" and wheel speed over 200 MPH. Those words sort of went in one ear and out the other, but as is my (bizarre) custom I emailed him to ask what he meant exactly, but not until two days ago.
He wrote that normally dyno runs are in the gear with a 1:1 ratio, but that for a C7 Z06 he has to max out in fifth gear (1.27:1 ratio). I then asked if he meant that if he used sixth gear, the gear with a 1:1 ratio in the 8L90E transmission, wheel speed would exceed 200 MPH and that was not safe, he replied in the affirmative. Therefore, the shown output is less than the actual maximum.
The upshot of all of this is I don't exactly know what kind of output the engine generates and never will, really. Joe did say I could add a bigger supercharger (and accompanying cam) and the car would have over 800 HP at the rear wheels on 91 Octane pump gas (the highest Octane usually available in Arizona) and "drive smooth as silk." He also said the stock bottom end can handle power up to 1,000 HP at the rear wheels. Hmm…800 HP at the rear wheels probably translates to 920-940 HP at the crankshaft from "just" 376 cubic inches. As I wrote Joe, I have some things to think about. Hey, we have no kids and you can't take it with you.
As always, I welcome thoughtful comments.
#WanderingWednesday
#DesertViews
#Anti-VaxxersAreClueless!
#1000HPInABox
#somanycarsjustonelife
#disaffectedmusings
If you like this blog please tell your friends and share the blog URL (https://disaffectedmusings.com). Thanks.