More posts from Why Evolution Is True, some of which are hard to believe. This one is about a proposal that New York City schools get rid of honor rolls and class ranks. Another is about a professor at Portland State University who resigned under pressure from his school because he is a harsh critic of wokeness in the US center of the disease. Here is an excerpt:
"Students at Portland State are not being taught to think. Rather, they are being trained to mimic the moral certainty of ideologues. Faculty and administrators have abdicated the university's truth-seeking mission and instead drive intolerance of divergent beliefs and opinions. This has created a culture of offense where students are now afraid to speak openly and honestly."
This post is about the difference between equity and equality. My very firm belief is that while people may have equal rights under the law, all people are NOT created equally. Therefore, equity–or equality of outcome, as opposed to equality of opportunity–is impossible and an extremely foolish and dangerous policy goal.
I think many in this country and around the world have lost their minds. I also think it is the ultimate in temporal arrogance to think that the words and actions of people in 1821 can or should be judged by the standards of 2021.
******************
Back to my roots…this article is titled, "Five Weird Facts About The Chevy Small-Block V8." The ubiquitous SBC has been used in Ford-based hot rods, restored Chevys from the 1940s and almost everything else in between. Chevrolet built more than 100,000,000 of these engines from 1955 through 2002. Actually, while they are no longer built for production vehicles–the current small-block Chevrolet V8 is more of a philosophical descendant than a mechanical one–as the Macs Motor City Garage article notes, the engine is still being produced by General Motors' Chevrolet Performance Division. Here is a snippet from the article:
"Below right, next to the '55 Corvette 265 CID V8, is the ZZ6 350 crate engine, which sports a roller cam, electronic fuel injection, titanium intake valves, and other up-to-date features, and it's rated at 420 horsepower. Just drop it in and go."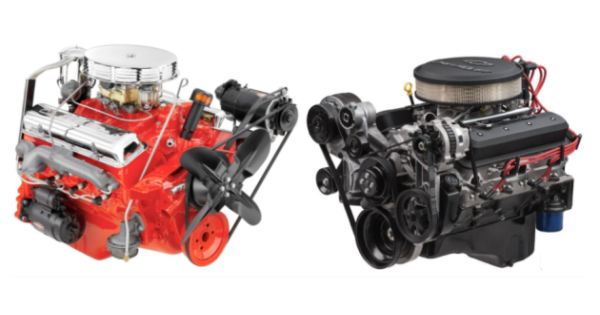 One of the five weird facts listed is about the many number of displacements this engine had, ten according to the piece, ranging from 262 to 400 cubic inches. I don't think the LS1 engine introduced for the C5 Corvette in 1997 was a literal descendant of the original small-block Chevy. According to the piece it isn't because its displacement (346 cubic inches) is not listed among the many displacements shown. From The Genuine Corvette Black Book:
"LS1 had the same bore spacing and similar displacement to the 350ci engine family it replaced [emphasis mine], but otherwise was new and state-of-the-art in pushrod V8 design."
I point this out because this means I have probably never owned a car with a traditional small-block Chevy V8. Of course, the LS engines have become ubiquitous in their own right as the heart of many, many builds. If I am ever in a position to own and to modify a car like the one shown below, I will almost certainly have an LS motor installed:
How many of you have owned a car with a traditional small-block Chevy V8?
#ThreadlessThursday
#WokenessIsEvil
#SBC
#somanycarsjustonelife
#disaffectedmusings
If you like this blog please tell your friends and share the blog URL (https://disaffectedmusings.com). Thanks.