First, thanks to those who read the blog yesterday. I guess when I "stay in my lane" more people read. I will still leave my lane in the remaining months of this blog, but perhaps a little less often.
Second, for Mark the answer is that the Cadillac XLR will not be a part of my Ultimate Garage 3.0. I decided it was not prudent to ignore information. The XLR was excluded from 2.0 because of its poor reliability record, especially for its first two model years. I have/had a friend named George who owned two XLRs from these model years and both had to be repurchased by Cadillac under the state's lemon law. His experience was not unique.
Maybe some of the cars in 3.0 would not be good to live with on a daily basis, either, but I don't know that right now. This thinking is also why the Saturn Sky Red Line is not in 3.0. My wonderful wife and I test drove a Sky and were just put off by the cheapness of the interior.
Remembering my own experience with a car I seldom, if ever, write about was the clincher. I "bought" a new 2011 Infiniti G37x coupe. (I'll explain the quotation marks for the word *bought* later.) On paper, schematically, it seemed to have everything I wanted. It wasn't a great-looking car, but I thought its looks were a 6 on a 1-to-10 scale. It had 330 HP and a 0-to-60 time of under 6 seconds. It had all-wheel drive, which I thought was necessary for living in the mid-Atlantic. It had an internal hard drive for storing media files and a nice navigation system.
However, the longer I owned the car, the less I liked it. The main reason was the AWFUL CVT transmission. I like crisp shifts, not droning and whining. We lived in an area with some hills and sometimes when I went downhill the transmission went nuts and the engine would rev to over 4,500 RPM. Every time that happened I thought the car would explode. How annoying that transmission would prove to be was hard to ascertain in a 15-minute test drive.
The all-wheel drive proved to be unnecessary as I basically retired about a year after my acquisition of the car. The AWD system was very useful just one day in the three years I had the car, a day when we received an un-forecast 6 inches of snow.
I had actually leased the car, but with just one payment. Hence the quotation marks around the word *bought.* I didn't have to make any payments for the life of the lease and, therefore, didn't have to pay interest on the lease payments. That probably saved me almost $1,000 during the time I owned the car.
I grew to dislike the car so much that I actually turned it in four months early. I had a 39-month lease, but turned the car in slightly less than three years after I acquired it. The point of this story is (yeah, get to your point) that I learned very relevant characteristics about the G37x and could only have learned them by actually "buying" the car. Those characteristics will never disappear and, therefore, are very relevant in an assessment of that car.
On to Part Two of Ultimate Garage 3.0…
THE CRÈME DE LA CRÈME
Iso Grifo Small Block
I excluded this car from my first edition of my Ultimate Garage because I thought it was too close in appearance to the C2 Corvette coupe. Also, the Iso Grifo usually had a C2 Corvette drivetrain. For 2.0 and 3.0 I decided the hell with that. I loved this car from afar for years and when I finally got to see one in person I was not disappointed.
The fact that it has a C2 Corvette drivetrain is actually an asset as far as I am concerned. Oh, I specified the small block version because the big block necessitated a roof-like structure on the hood that really took away from the car's looks, IMO.
Lexus LC Coupe
This car has been a part of all three Ultimate Garages I have published. I like the convertible almost as much, almost.
The LC is not a slug with its 5-liter V-8 producing 471 HP/398 LB-FT of torque and was very impressive when I test drove one back in January of 2018. The car is not rare in this part of Arizona and never fails to grab my attention. Good thing my wonderful wife usually drives when we're going somewhere together.
1965 Buick Riviera GS
As every regular reader knows, I think the first-generation Riviera (1963-65) is one of the great automotive designs in history. In fact, sometimes I'm not sure that it's not the best-looking car ever made. Ned Nickles drew the car under the auspices of GM's design chief, Bill Mitchell. Without further ado:
In GS spec, the 7-liter/425 cubic-inch V-8 produced 360 HP/465 LB-FT of torque. If I ever acquire one–highly unlikely–I would leave it alone, more or less, if it had a numbers-matching drivetrain as fewer than 4,000 of the GS were produced. If it already had a new engine or transmission, then all bets would be off, but I would not modify that body one bit.
C7 Corvette Z06
Dollar for dollar, this is possibly the greatest performance car in history. The current generation Ford GT is part of Ultimate Garage 3.0 and it's a great car, but it doesn't really outperform the C7 Z06 and it starts at a half-million dollars. New, this car stickered for about $100,000 depending on options. Of course, I paid far less for mine which was less than three years old and with 4,400 miles. Speaking of my car:
The C7 Corvette Z06 had 650 HP/650 LB-FT of torque right out of the box. The car would accelerate from 0-60 in less than three seconds, do the standing quarter-mile in less than 11 seconds and pull 1.2g on a skidpad. As I have learned, the LT4 engine is easily tuned to increase power. Joe Cordes of Cordes Performance, the company that will be working on my car later this month, told me he has easily gotten these engines to 1,300 HP. Mine will probably have 750-775 HP when it's done. Almost seems minuscule by comparison…
DeTomaso Longchamp
This car and the last one in Ultimate Garage 3.0 are both shown here. I guess these are my two favorite cars, but sometimes I am not sure. Anyway, the DeTomaso Longchamp:
Like the Pantera, the Longchamp had a Ford engine, the 351 cubic-inch Cleveland V-8. Almost all of the cars were equipped with the Ford C6 automatic transmission although a few had a five-speed ZF manual. For the first year of Longchamp production, 1972, the engine was still rated at a decent output of 326 HP/344 LB-FT of torque.
The Longchamp was produced for a long time, 1972 to 1989 (some think production actually ceased in 1986), although only a little over 400 were produced in total. I will never own one, but I can still admire these from afar. That leads to the last car…
1967 Corvette Convertible Restomod
In all honesty, I would be happy with any C2 Corvette Convertible Restomod as long as I had the auxiliary hardtop and the car was done to my specifications. Still, as long as I'm writing about my "Ultimate Garage…"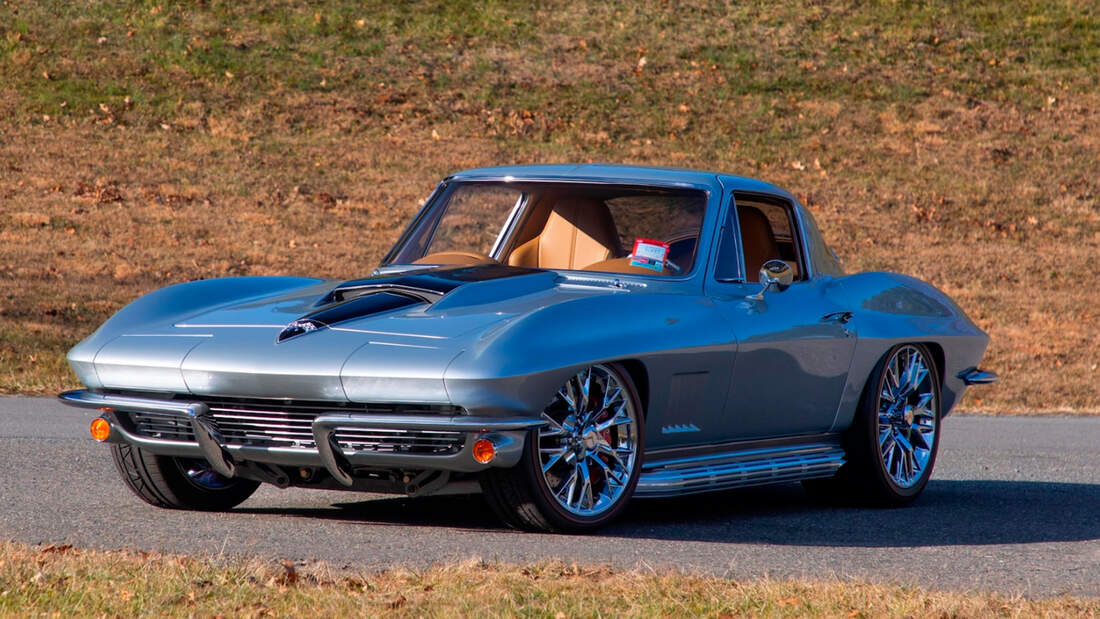 Imagine the bottom car with a set of C7 ZR1 wheels and that's close to perfect for me. Of course, a restomod is not bound by numbers-matching drivetrains or anything else. Basically it's "how much for how much."
I would insist on at least 500 HP/500 LB-FT of torque, a six- or eight-speed automatic transmission, modern suspension and brakes, Bluetooth, front and rear cameras, etc. It's likely that a really good restomod would probably cost at least a quarter-million dollars, whether I bought it or had it built. Again, that's the major reason why I decided to buy a C7 Z06.
Well, I hope you have enjoyed my Ultimate Garage 3.0. These two posts are the longest in the history of the blog (about 2,600 words in total) and are certainly the last such endeavor I will ever publish. By this time next year, this blog will no longer be active unless WordPress gives the Classic Editor an unexpected, 11th-hour reprieve.
Once again, please feel free to submit your Ultimate Garage. It's a free-form exercise, but please don't submit one with 50 cars. If I could end up with 14, you should be able to keep yours to a similar number.
#UltimateGarage3.0
#CrèmeDeLaCrème
#somanycarsjustonelife
#disaffectedmusings
If you like this blog please tell your friends and share the blog URL (https://disaffectedmusings.com). Thanks.