When I worked in office jobs that were not in baseball, I–like many people, I suspect–really disliked Mondays. (Remember that only about 30% of Americans like their job.) Not that I know what it's like to be in prison, but it felt like I was incarcerated in those places while I was at work.
I'm not working in or out of an office, but I have the Monday Blues today. Why? It's probably a combination of events, some of which I cannot discuss here.
I did suffer acid reflux last night, which woke me up and kept me up for about an hour before I fell asleep, rather uncomfortably, in my chair in the bonus room.
I am also tired of the ineptitude of American business…on Saturday my wonderful wife and I ate lunch at a place highly recommended by locals. It took the "establishment" three tries to get her burrito right. My first glass of iced coffee tasted like iced tea and I suspect it was.
We ordered solar screens for the windows on the south side of the house. When the company arrived more than a month ago to install them, the one we ordered for a half-moon window was not installed as, apparently, they had forgotten to order it. We are still waiting for it to be installed even though we have completely paid for the job and all of the screens.
I ordered an expensive item almost three weeks ago, something I have wanted for awhile, and was told it would arrive last Friday. It did not arrive and neither a phone call nor an email to the company were returned.
My strong belief is that when people are hired and/or promoted for reasons other than genuine merit, everything goes to sh*t. The damn virus has really scrambled logistical and work systems, as well.
I think it's a sad sign, and a bad sign, when a company CEO makes a public statement about the importance of merit in hiring and promoting employees and is immediately subjected to vitriolic criticism. Frank Slootman, CEO of cloud software maker Snowflake (an ironic name, no?), said earlier this month, "We're actually highly sympathetic to diversity but we just don't want that to override merit. If I start doing that, I start compromising the company's mission literally." Slootman also said other CEOs feel the same way about the need to reach a more "moderated" approach to diversity, but are reluctant to say so publicly.
He was immediately criticized by dozens of US executives and was forced to backtrack somewhat from his comments. The world is messed up when a CEO can't say that merit matters most. When merit doesn't matter most, the result is the wrong item served at a restaurant, a missing solar screen, an expensive item not delivered when promised.
Perhaps it's a good thing I'm not working in an office job. I would not be happy if I were passed up for a promotion based on criteria other than merit. What goes around comes around…
******************
Do any of you really care about my Ultimate Garage 3.0? I have been ruminating on the topic and much in the same way something a college professor said to me gave me the kick start I needed to finish my Masters Thesis, just setting a limit, arbitrary or not, to the number of cars has helped me complete the list, more or less.
As I have written before, if I publish the list it will not be one car at a time. Given the limit I imposed on myself, I can show the garage in two posts. (Contestant: I can show that garage in two posts. Host: Show that garage! Is the Name That Tune reference lost on most of you?)
Not having anything to do with 3.0, but with a model that will be represented…on this day in 1996 the last C4 Corvette was built and sold to Mike Yager of Mid-America Motorworks. From this Corvette Blogger article a picture of the car: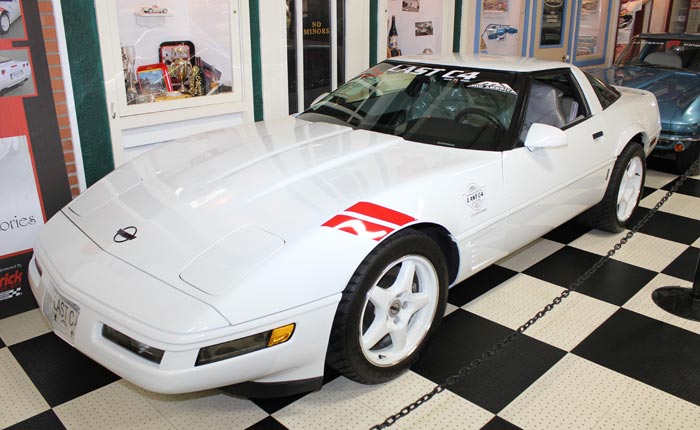 Even many Corvette enthusiasts don't realize that the C4 was really a very different car from the C3. The latter still used the chassis, more or less, developed for the C2, which means at the end of the run for the C3, the chassis was 20 years old. From The Genuine Corvette Black Book:
"The 1984 Corvette was a complete redesign in almost every aspect. Handling considerations dominated and the result was praised by the motoring press as the world's best cornering automobile."
The full redesign wasn't complete until the 1985 model year as the Cross Fire Injection system that was introduced in 1982, the last year of the C3, wasn't replaced until '85. Once again, from The Black Book:
"Design criteria specified that the 1984 Corvette have more ground clearance but less overall height, a lower center of gravity, and better front-to-rear weight distribution. In order to achieve these goals, engineers located the engine more rearward, then routed the exhaust system through a larger transmission tunnel. The effects on handling were dramatic, but a penalty was paid in interior room, especially in the footwell area."
I will write that the C4 Corvette is not a part of my Ultimate Garage 3.0, but I have still grown to really like the car, especially from model years 1992 and later or, more particularly, from 1995 and 1996. About 359,000 C4 Corvettes were produced during the 13 model year run. Of those, about 109,000 were produced from 1992 through 1996. As the hashtag reads, so many cars just one life.
#MondayBlues
#BringBackMerit
#UltimateGarage3.0
#LastC4Corvette
#somanycarsjustonelife
#disaffectedmusings
If you like this blog please tell your friends and share the blog URL (https://disaffectedmusings.com). Thanks.