Today's earworm, "Come On Down To My Boat" by Every Mothers' Son, is sponsored by OCD. The group was a one-hit wonder and the song peaked at #6 on the Billboard chart in 1967. Maybe I just have to stop listening to Sixties on Six on Sirius/XM.
******************
I will be undergoing a "minor" surgical/diagnostic procedure today at the Mayo Clinic. I believe this will be the third time I have had this particular procedure done. Please wish me luck.
You know the old joke about surgery, right? Major surgery is any surgery you're having while minor surgery is surgery on anyone else.
******************
Should I count the days until we receive our second vaccine shot against the damn virus or until we have "full immunity" about two weeks later? In case you're curious, [Everyone in unison] or even if you're not, it's 11 days until the second shot so about 25 days until we're "free."
******************
Today's installment of "People Vote With Their Feet" is courtesy of this CNBC video about the mass exodus of people and businesses leaving California and moving to Texas. Like everything else, this is not all good or all bad for Texas. From the video summary:
"Oracle moved its headquarters to Austin, Texas late last year. Tesla is also building its new Gigafactory there, and Apple will house its second-largest campus in Texas' capital city. This Big Tech influx has raised chatter about Texas potentially becoming a business hub that could rival Silicon Valley."
"CBRE and Charles Schwab relocated their headquarters from California to the Dallas area in recent months, and Hewlett Packard Enterprise is headed to Houston. Texas has also attracted wealthy individuals like Joe Rogan, Elon Musk, Dropbox CEO Drew Houston and Palantir co-founder Joe Lonsdale."
In a federal republic like the US, different states can have different laws and regulations. Who knows? One or two really bad earthquakes and perhaps California could become a ghost state. Once again, people want to reap most of the rewards of their labor and not have them confiscated by government. When they can, people vote with their feet so they can enjoy more of those rewards.
******************
How about this as a reward? From this Road and Track article a picture of the Aston Martin Valhalla: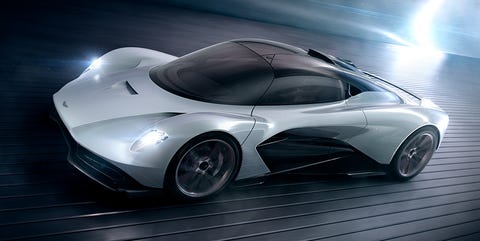 When first announced Aston targeted 2021 as the start of manufacture for this limited production (500 units) automobile. I don't know if any have been produced or sold. A price bandied about but not confirmed by the company is $1.3 million. Unlike many people, I don't begrudge wealth as long as it has been acquired or built legally. If you can really afford to buy a car for $1.3 million, then more power to you. Hopefully this link to a picture from Aston Martin's website won't break:
The website ad copy is sparse; detailed specs are not shown. Supposedly, the heart of the car will be a turbocharged V-6 developed totally in house by Aston Martin. I think some Aston fans were not happy the car doesn't have a V-8 or V-12. Welcome to the 21st century…
If you can reward yourself with one of these, go right ahead. Being resentful and envious of people who are wealthier than you is not a sound basis for public policy. The politics of envy are a road to mediocrity.
#MondayMusings
#EveryMothersSon
#MayoClinic
#COVID19Vaccine
#PeopleVoteWithTheirFeet
#AstonMartinValhalla
#SayNoToThePoliticsOfEnvy
#somanycarsjustonelife
#disaffectedmusings
If you like this blog please tell your friends and share the blog URL (https://disaffectedmusings.com). Thanks.
PS, thanks to everyone who responded yesterday to my "lament" about the decline in comments by commenting.