On this day in 1902 or not, the first Cadillac was completed. From the Wikipedia article, "Cadillac's first automobiles, the Runabout and Tonneau, were completed in October 1902…Many sources say the first car rolled out of the factory on 17 October; in the book Henry Leland—Master of Precision, the date is 20 October; another reliable source shows car number three to have been built on 16 October."
OK, so we're not sure of the exact date of the first Cadillac. Regardless, for decades the Cadillac name was the most aspirational among American car buyers. Sadly in my opinion, few car buyers desire Cadillac, especially buyers under 40. From Car Sales Base, some data on Cadillac sales:
| | | |
| --- | --- | --- |
| YEAR | SALES | MKT SHARE |
| 1985 | 298,762 | 1.95% |
| 1990 | 258,168 | 1.87% |
| 1995 | 180,504 | 1.14% |
| 2000 | 189,154 | 1.10% |
| 2005 | 235,002 | 1.38% |
| 2010 | 146,925 | 1.27% |
| 2015 | 175,267 | 1.00% |
| 2019 | 156,246 | 0.91% |
Let me say I can't vouch for the accuracy of the Car Sales Base figures and, in fact, have seen different numbers. For example, if one accepts the 1985 sales figure as a given, data from other sources would peg that number at an almost 4 percent share of the market, not a share of about 2 percent. For illustrative purposes, though, this data makes the point that Cadillac market share is declining to a dangerously low level. From Barrett-Jackson a picture of a lot sold at their Northeast auction in 2016, an auction that my wonderful wife and I attended.
OK, why did I jump to 1949? That was not the first year for tail fins, that was 1948, but it was the first year for Cadillac's modern, overhead-valve V-8 engine. (Oldsmobile also introduced such an engine for model year 1949.) By the way, according to History of the American Auto by the Auto Editors of Consumer Guide®, Cadillac had about a 1.5% market share in 1949.
Cadillac's history as an innovator can stand with that of any other company. Their most important innovation was a long time ago, but changed the automobile world forever. In 1912, Cadillac was the first automobile manufacturer to incorporate an electrical system enabling starting, ignition, and lighting. That made the hand crank starter obsolete and made automobiles accessible to many more people.
From supercars.net a picture of one of my favorite cars ever, a car that might make my Ultimate Garage 3.0, if I ever reveal it.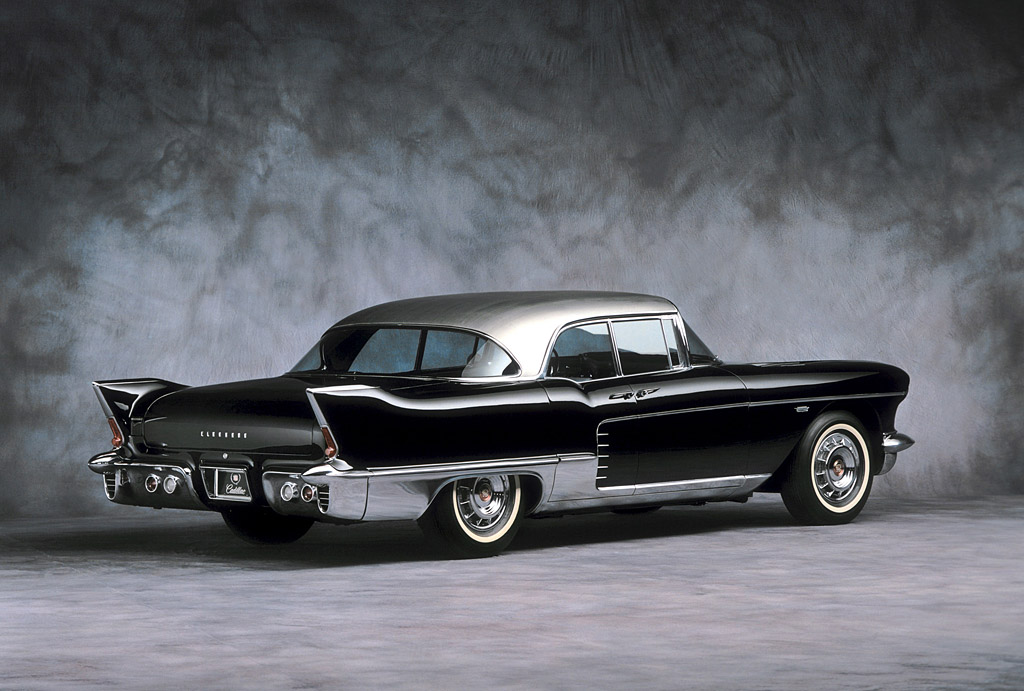 This is a 1957 Cadillac Eldorado Brougham, a car that has been the subject of an In Or Out? post. This car also brought numerous innovations such as the use of air suspension (which in this iteration was a failure, though) and the first automatic two-position "memory" power seats.
Here is a picture of a car that did appear as part of my Ultimate Garage 2.0, the 1967 Cadillac Eldorado:
The picture is from the aforementioned book by the Auto Editors of Consumer Guide®. The Eldorado, and the Oldsmobile Toronado introduced in 1966, brought front-wheel drive to the American market in a meaningful way.
Next and last, a picture of a car that shows both the promise and the disappointment of Cadillac, the XLR: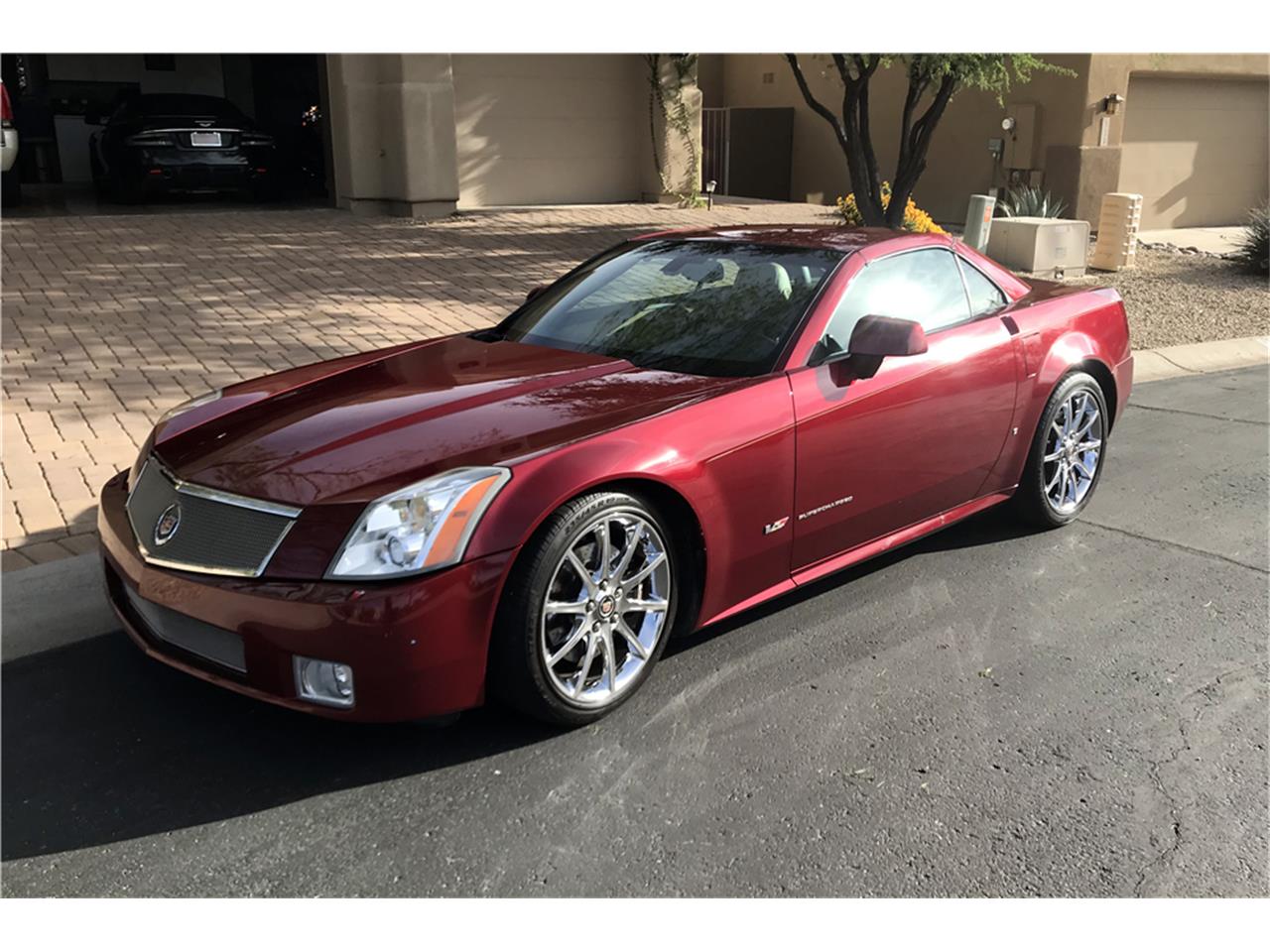 From Classic Cars, a picture of a V-spec XLR, meaning this car has the optional supercharged engine. The XLR, first previewed as the Evoq concept in 1999, was almost five years from concept to production, but still had a myriad of quality issues when introduced, particularly in the first two model years, 2004 and 2005.
Cadillac/General Motors overpriced the car so it was particularly vulnerable when the "Great Recession" hit in 2008 and it was discontinued after model year 2009. For example, the V-spec was basically a $100,000 car when new in 2006. A 2006 Corvette convertible, a car that shared much with the XLR, had an MSRP of about $52,000. The base 2006 XLR had an MSRP of more than $75,000.
Obviously, the two markets were not exactly the same, but must have had some overlap, which makes their relative pricing suspect. Yes, hindsight is 20-20, if not better. Still, one wonders what might have happened if the base XLR had been priced at about $65,000 and the V-spec at about $80,000 or maybe $85,000.
As part of a large company, I don't think Cadillac is in danger of extinction, but I could be wrong. The end of Cadillac would be a most sad day for automobile enthusiasts.
As always, I would like read your thoughts on this topic that, admittedly, I have written about before. As I wrote here, a picture of a beautiful 1948 Cadillac convertible was my inspiration for writing about cars on an almost daily basis.
#CadillacSaturday
#DeclineOfCadillac
#somanycarsjustonelife
#disaffectedmusings
If you like this blog please tell your friends and share the blog URL (https://disaffectedmusings.com). Thanks.