Fray: Verb, show the effects of strain (or) Noun, a battle or fight
The latter can certainly lead to the former…
******************
Since at least the 1970 Census the suburbs have been the most populous part of the US. The common wisdom (a term that is often, but not always, an oxymoron) is that younger people, however, want to live in central cities. Well, maybe not anymore…this CNBC article, whose title begins, "The flight to the suburbs is real and growing…" states that Realtor.com (a site with which my wonderful wife and I are becoming quite familiar) experienced a 13% increase in searches in suburban zip codes in May, which is twice the increase seen in central city zips. From Javier Vivas, Director of Economic Research for Realtor.com as quoted in the CNBC piece, "This migration to the suburbs is not a new trend, but it has become more pronounced this spring. After several months of shelter-in-place orders, the desire to have more space and the potential for more people to work remotely are likely two of the factors contributing to the popularity of the burbs."
The article itself (by Diana Olick) begins: "If millennials once piled into the cities, fueling downtown renewal and growth, apparently they are now piling out. The stay-at-home orders brought on by coronavirus have more potential homebuyers looking for properties in the suburbs. Millennials are now the largest cohort of buyers."
In this post I criticized the belief held by many that we would be better off if more people lived in densely populated urban areas. Well, people are apparently voting with their feet, as they often do, and rejecting that belief.
******************
On this day in 1966 Ford extracted a large measure of revenge against Ferrari when its GT40 MkII entries finished 1-2-3 in the 24 Hours of Le Mans. (Ferrari cars had won the race the previous five years.) With the three Ford cars way out in front during the final pit stop, Ford decided to stage a publicity stunt by having all three cars cross the finish line almost simultaneously. The leading #1 car driven by Ken Miles and Denny Hulme crossed the line next to the #2 car driven by Bruce McLaren and Chris Amon with the third car just behind. Even though both cars completed the same number of laps, since the #2 car had started farther back they were crowned the winner. Needless to say, Miles was not happy. He had already won the 24 Hours of Daytona and the 12 Hours of Sebring that year and winning Le Mans would have given him the "Triple Crown" of endurance racing. Supposedly, French race officials initially agreed to recognizing a dead-heat finish, but "changed their mind" near the end of the race.
From silodrome.com a picture of the 1966 Le Mans finish: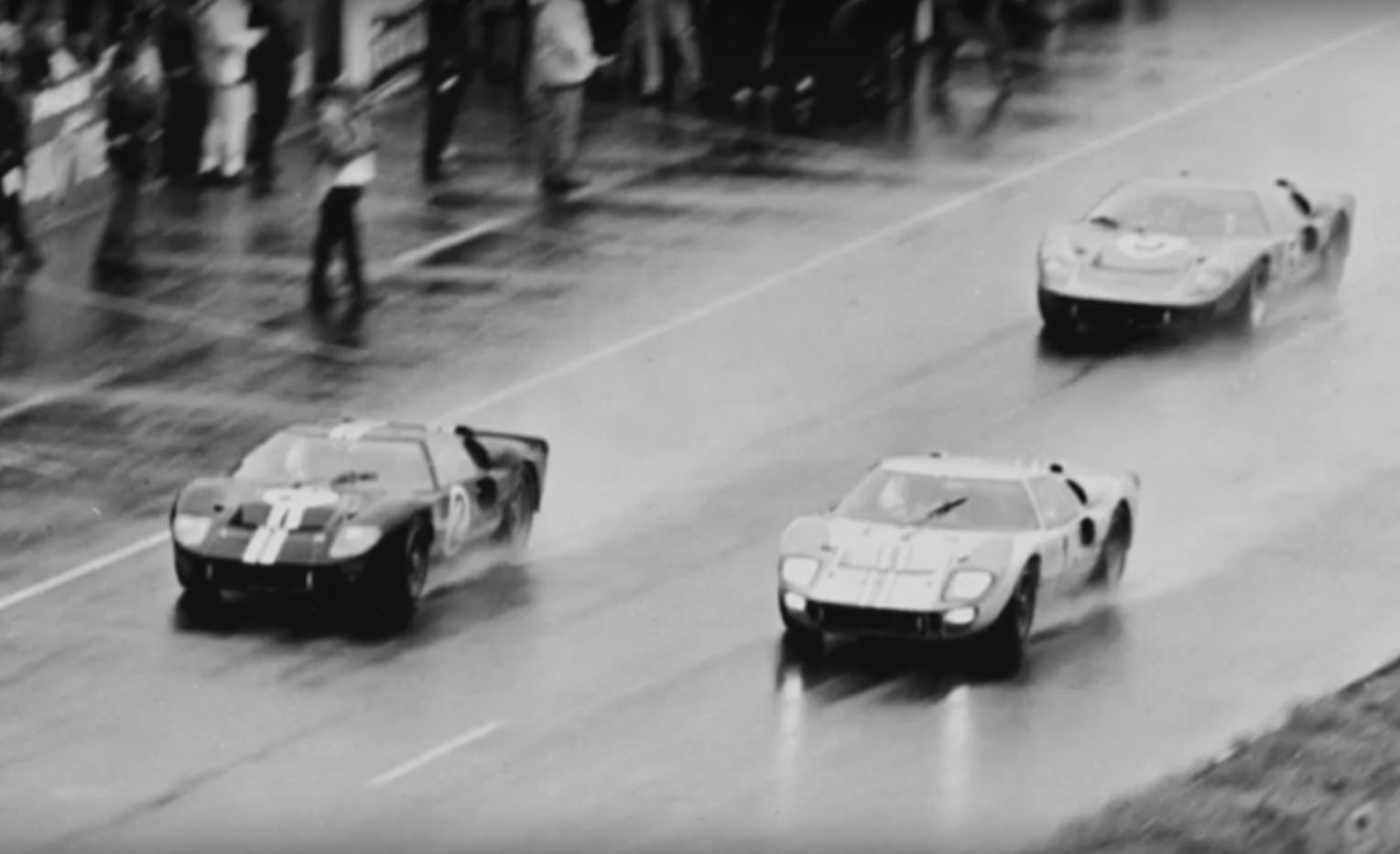 In 2016, three years before the movie Ford v Ferrari was released, a "true" documentary about the Ford-Ferrari rivalry at Le Mans was released called The 24 Hour War. Sam Smith of Road and Track wrote this in a review of the latter film:
"In 1966, Ford won the 24 Hours of Le Mans for the first time. The following year, they won again. The year after that, they won a third time. And in 1969, a fourth."
"That achievement was arguably the greatest in the company's history. It came after years of struggle, more than a few public failures, and enough burnt cash to refloat the Titanic. Ford's Sixties Le Mans program was famously the result of a dispute between Henry Ford II and Enzo Ferrari–Ford had tried to purchase Ferrari (the company), only to have Enzo shut down the sale at the last minute. Ford the man vowed to get even, aiming his considerable resources at Ferrari's Le Mans record. The resulting warpath employed everyone from Bruce McLaren to Carroll Shelby and Indy 500 legend A.J. Foyt, putting the stops to Ferrari's unbroken, five-year winning streak at La Sarthe."
"Collectively, Ford's wins were one of countless bright moments in a golden decade for both motorsport and culture in general. That first win made it onto the front pages of European newspapers, and it actually helped sell new cars. Ferrari never won Le Mans again, but Ford wouldn't go back until 2016. When Dearborn won last year [2016], the world went less than nuts. But that makes sense: Both Le Mans and international motorsport are different now, tamer and less raw. So is the automobile itself. Racing is no longer a brutally dangerous pastime or the kind of thing that puts whole countries on the edge of their seats. And most of all, in 2016, there is no Henry the Deuce, no world-altering grudge match, no Enzo, no Carroll. The Ford-Ferrari war pivoted on how these men operated and thought, and they made that story what it was."
Smith's recap is excellent, IMO.
#FridayFray
#ByeByeBurbs
#FordVersusFerrari
#somanycarsjustonelife
#disaffectedmusings
If you like this blog please tell your friends and share the blog URL (https://disaffectedmusings.com). Thanks.