First…except for the two-day surge in views that occurred in April, 2019 when Bill James tweeted the main link to this blog, yesterday had the highest number of views and visitors for a single day. Thanks, please keep reading and please tell your friends. Speaking of friends: Bill, you are always welcome to tweet the main link to this blog or to any post. 🙂
Not sure why this topic came to me, it certainly didn't appear in a dream, but I have always had a thing for small, "cute" cars. If I continue this as a feature, the parade of such vehicles will not be in any order and some of those cars have already appeared in this blog. From Saab Planet, a picture of a 1974 Saab Sonett III: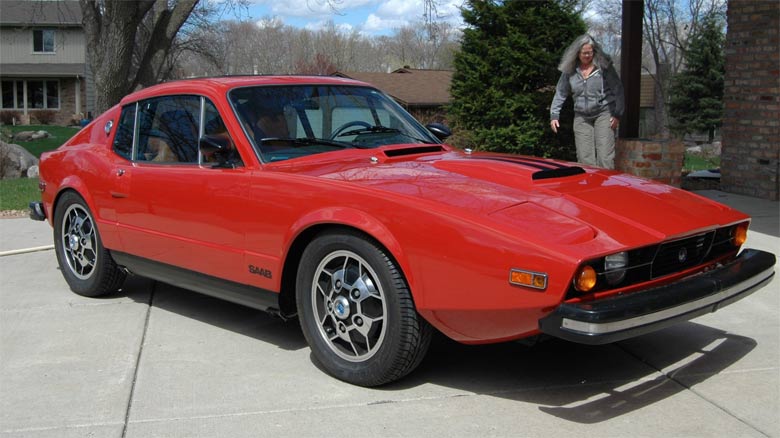 The Sonett I (One, not "eye") was basically a prototype built between 1955 and 1957 with a grand total of six cars produced. In 1966, Saab introduced the Sonett II and then the next year began fitting these cars with a V-4 engine built by Ford.
V-4 engines have been used in motorcycles, but have rarely been used in cars. The most notable exception was Lancia's use of a V-4 engine in various iterations from 1922 to 1976. I think these very small engines, while being less practical in terms of casting and head design, have advantages in deployment. Their small blocks can be deployed in either a front mid-engine design, leaving the possibility of the desirable long hood, short deck design or they could be deployed behind the driver or even over the rear wheels.
Saab used these engines to replace the two-stroke motors it had been using. Two-stroke motors need to have oil mixed with the fuel and don't offer much low-end torque.
The Sonett III was introduced in 1970. The car sat on a tiny 85-inch wheelbase. For reference, the shortest wheelbase for any Corvette, which is not a big car, was 96 inches for the C4 (1984-1996). The Sonett III was just 150 inches, 12 1/2 feet, in length. The sleek body was aerodynamically efficient with a drag coefficient of just .31. About 8,400 of the Sonett III were produced through 1974. The 1.7 liter/104 cubic-inch V-4 produced 75 HP/93 LB-FT of torque. Of course, these cars only weighed 1,800 pounds.
I think these cars look fantastic. Without modern safety systems I don't know how safe I would feel driving one, though.
What do you think of the Sonett III? What are some of your favorite small cars, if any?
#SmallCarSaturday
#SaabSonettIII
#somanycarsjustonelife
#disaffectedmusings
If you like this blog please tell your friends and share the blog URL (https://disaffectedmusings.com). Thanks.