Without further ado: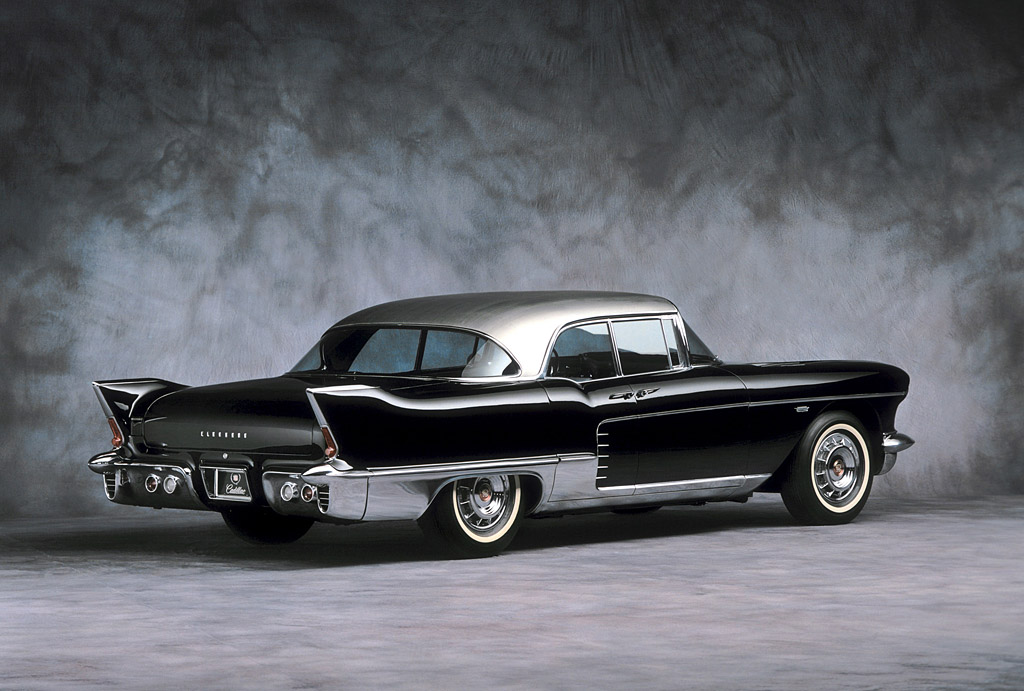 The top pic is from favcars.com, the bottom is from supercars.net. These are two pictures of the 1957-58 Cadillac Eldorado Brougham. This was a hand-built, top of the line luxury car. It was derived from the Orleans and Park Avenue show cars of 1953-54.
This car was groundbreaking in many respects. From the Wikipedia article about the Cadillac Eldorado, here is a description of the innovations:
"The car featured a roof trimmed in brushed stainless and self leveling air suspension…It also had the first automatic two-position "memory" power seats, a dual four-barrel V-8, low-profile tires with thin white-walls, automatic trunk opener, cruise control, high-pressure cooling system, polarized sun visors, electric antenna, automatic-release parking brake, electric door locks and a dual heating system. Other unique features included an automatic starter with restart function, Autronic Eye, drum-type electric clock, power windows, forged aluminum wheels and air conditioning…Buyers of Broughams had a choice of 44 full-leather interior and trim combinations and could select such items as Mouton, Karakul or lambskin carpeting."
The Eldorado Brougham also had many luxury touches like a leather cigarette holder (remember this was the late 1950s) and a vanity kit. The air suspension was a bust as the technology of the day just wasn't up to the demands of the design. The price was a staggering–for the time–$13,074; a Series 62 Eldorado Biarritz convertible was $7,286. Do you really care about the drivetrain? OK…for both years the Eldorado Brougham used Cadillac's 365 cubic-inch V-8 with a four-speed Hydra-Matic automatic transmission. Engine output was 325 HP/400 LB-FT of torque for 1957, 335 HP/400 LB-FT for 1958.
I don't think I ever saw one in person until the 2016 Barrett-Jackson auction at Mohegan Sun in Connecticut. It's not too surprising that I didn't see one before then as only 704 were made during the two model years it was produced.
OK, for the 1957-58 Cadillac Eldorado Brougham, In Or Out?
#InOrOut?
#1957-58CadillacEldoradoBrougham
#somanycarsjustonelife
#disaffectedmusings
If you like this blog please tell your friends and share the blog URL (https://disaffectedmusings.com). Thanks.