I don't know whether it's because I'm "hopped up" on my first dose of Dunkin' coffee in weeks, because I'm a little excited about the NFL Draft, because I'm a little excited about returning to using/playing Action! PC Football for the first time in six years, or just because I'm OCD, but I felt like posting again today.
This Sports Illustrated article chronicles how the NFL Draft came to be televised for the first time in 1980, 40 years ago. My long-time friend, Mel Kiper, is prominently featured as he should be. From Chat Sports, a picture of Mel:
******************
I grew up playing statistical sports table games like APBA and Strat-O-Matic. One can hardly say it was a waste of time as I wound up as a pioneer of sports analytics, a "father" of Moneyball, had a 20+ year career in major league baseball (during which I earned a pension and two championship rings) and wrote a football book that The Wall Street Journal called without a doubt the best book of its kind ever written (a book, by the way, with a Forward by Mel Kiper).
Action! PC Football is not a video arcade game. It is a game based on a realistic game engine in which the actual strengths and weaknesses of actual NFL players play a huge role in the outcome of games. I played this game from 2011 to 2014, after which I thought I was too old to indulge myself in such things. Even before the coronavirus rolled over the world I was considering getting back to it. This game is NOTHING like fantasy football. As I have written before and firmly believe, fantasy football is well-named because it bears little or no resemblance to the real thing.
I do not replay seasons that have already occurred. I have always drafted my own leagues from scratch and almost always at random. I must confess, though, that in the last such league I played in 2014, based on 2013 NFL season players and modeled after the 1968 NFL structure, I made sure that the Pittsburgh Steelers and Cleveland Browns were horrible. What about Satan's Minions, aka the Dallas Cowboys? They have never appeared in any of my Action! PC Football leagues. This league, using 2019 NFL players and the 1970 NFL structure, will be the Cowboys' first and you can be sure they will not be good.
From the Action! PC Football site a picture of a game screen: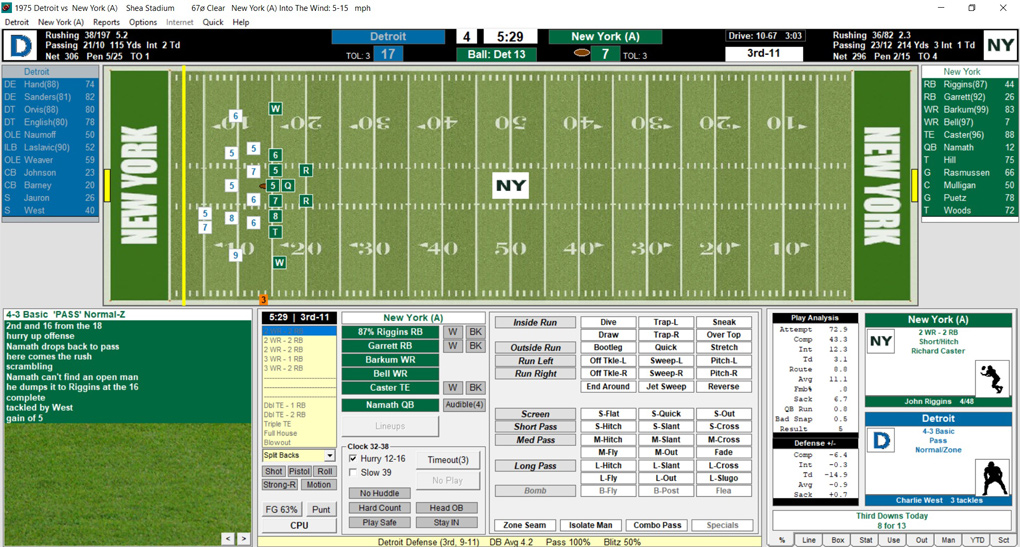 Here is what I wore today to Dunkin' in honor of Johnny Unitas, the NFL draft and Action! PC Football:
Thanks to my wonderful wife for taking the pictures. Thanks to Dr. Zal for giving me the jersey as a gift.
******************
I guess one should be thankful for small favors. While rummaging through the master bathroom looking for something else, I stumbled upon two bottles of this:
Between that discovery and the generosity of my good friend Bob, who sent me disinfectant tablets gratis that just need to be dissolved in water so they can be used in a spray bottle, I feel a little better about our disinfectant situation.
Normally, I make sure we have 6 or 7 cans of Lysol® spray in reserve at home, but–for some reason–in January and February I let the reserve run low. By the time we returned from Arizona the third week of March, Lysol® spray had seemingly disappeared from the world.
Hope you didn't mind reading a second dose of Disaffected Musings today, especially since it had nothing to do with cars.
#ThursdayBonusRandom
#NFLDraft
#MelKiper
#Action!PCFootball
#SmallDoseOfSerendipity
#Lysol®
#somanycarsjustonelife
#disaffectedmusings
If you like this blog please tell your friends and share the blog URL (https://disaffectedmusings.com). Thanks.