It was in the 70s here on Wednesday; this morning it's in the 40s with intermittent SNOW! I am not a meteorologist, but I guess what is happening is that a very cold column of air is right above us and even though it's substantially above freezing at ground level, the very shallow layer of air near the ground is not sufficient to melt the snow before it gets to "people level."
******************
"A foolish consistency is the hobgoblin of little minds."
– Ralph Waldo Emerson
Just because yesterday was not a Throwback Thursday doesn't mean that today can't be a Frugal Friday.
I have written quite a bit about my relatively newfound interest in C4 Corvettes (1984-96); more specifically, my interest in later C4s, especially 1995 and 1996 models. From the invaluable The Genuine Corvette Black Book here are some reasons why I have such interest in the last two years of the C4.
1995
Out of sight were numerous Velcro strips to reduce rattles and a stronger radio mount for less CD skipping. A drip tube was designed into the A-pillar weatherstrip for improved water intrusion control.
Connecting rods were changed to a powdered-metal design to improve both strength and weight uniformity. (My note: The change in connecting rods actually happened late in 1994 production, which means 1995 was the first full year for the improvement.) Fuel injectors were revised to better cope with alcohol-blend fuels and to reduce fuel dripping after engine shutdown.
Clutch controls in the automatic transmission were improved for smoother shifting and its torque converter was both lighter and stronger. (My note: In 1995 the automatic was standard and only 23 percent of Corvette buyers paid for the manual transmission option.) The 6-speed manual was redesigned by replacement of the reverse lockout with a high-detent design for easier operation.
Windshield wiper arms had revised contact angles and higher contact force to reduce chatter at all speeds and lift at high speeds.
1996
Automatic transmissions had improved friction materials for the intermediate clutch and front/rear bands, improved shift quality and more durable torque converters.
OK, it's a fair question to ask why these improvements were not made before the 12th and 13th years of the C4 Corvette. I do think car aficionados often forget it's the automobile business.
I think these cars represent a great way to get into Corvette ownership at a small price. Objectively, was the C4 as good a car mechanically and in terms of drivability as the C5? No…the C5 had a new and more modern engine, better weight distribution with its new rear transaxle and its design that put the wheels more at the corners of the car gave it better handling and stability as well as increased interior space. Still, I have already owned a C5 and in the last year or so have come to the opinion that the C4 looks better. Besides, the C4 is still a hell of a car and a lot more interesting than most of the dreck on the road today.
From AutoTrader a picture of a 1995 Corvette Coupe in Polo Green Metallic over Tan with 58,434 miles and an asking price of $7,995.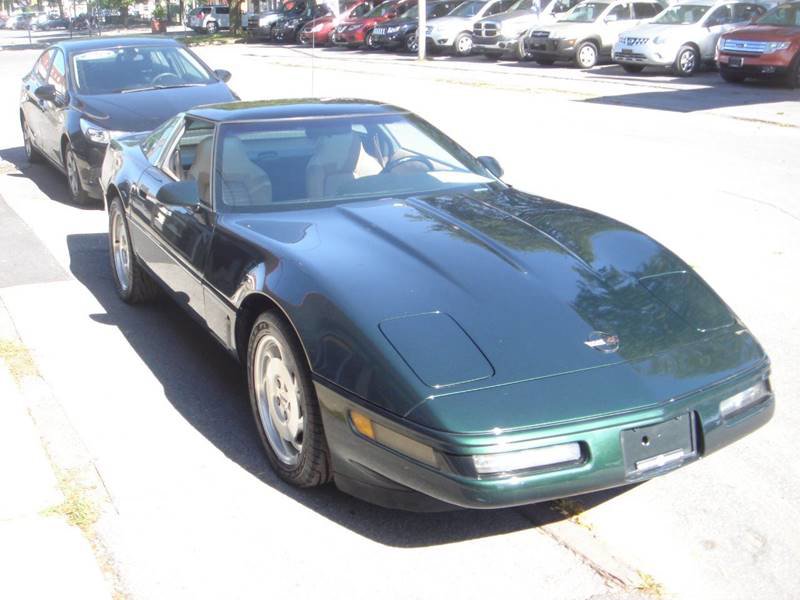 OK, everyone join in: the average "transaction price" for a new vehicle is about $40,000 (or it was before the coronavirus). $7,995 for a Corvette…
Originally, a picture of a 1996 Corvette Convertible in Torch Red over Black with 34,583 miles and an asking price of $13,200 was shown below, but the picture link is broken. From gtcarlot a picture of a similar car:
I suppose I am preaching to the choir for many of you and this Frugal Friday will be dismissed by the rest. Anyway, it doesn't take a fortune to buy a Corvette, if you really want one.
#FrugalFriday
#1995-96ChevroletCorvette
#somanycarsjustonelife
#disaffectedmusings
If you like this blog please tell your friends and share the blog URL (https://disaffectedmusings.com). Thanks.