In my second year in college two of my dorm mates were Whale and Cutch. (Why I called it my second year and not my sophomore year is explained here.) We got along very well, one reason being we were all rabid sports fans.
Fast forward to today where Cutch and I have lunch once a month and have been doing so for years. Unfortunately, Whale passed away in his sleep last week. When Cutch told me the news I was shocked even though Whale had suffered from numerous health issues, many of which were the result of his weight. Why do you think his nickname was Whale?
Please take care of yourself and Carpe Diem!
******************
Remember this?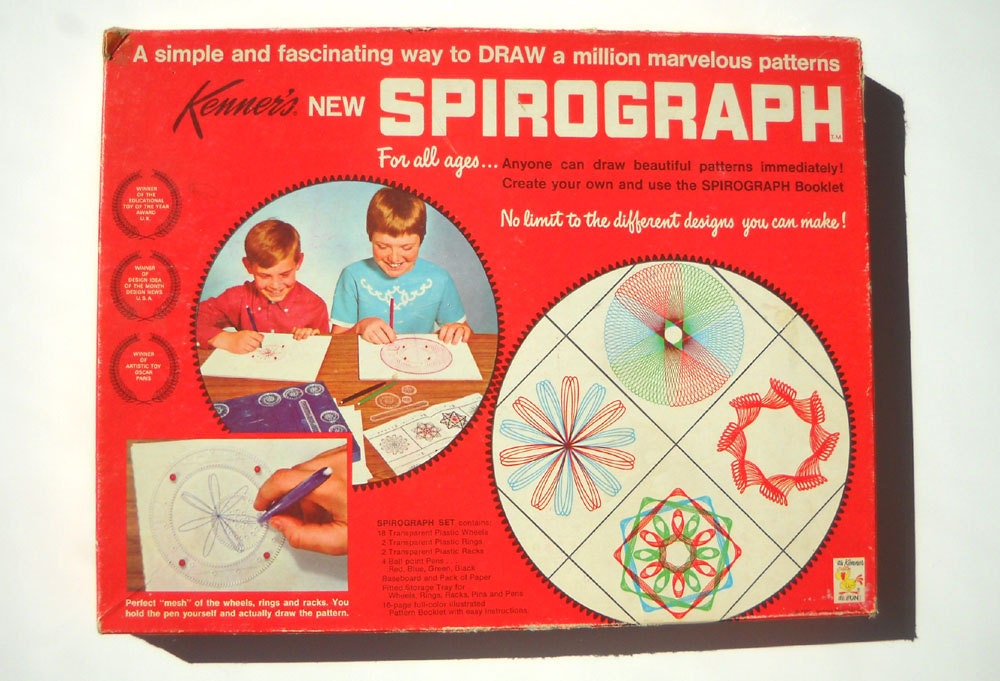 From Etsy a picture of Spirograph. From the Wikipedia article:
"Spirograph is a geometric drawing device that produces mathematical roulette curves of the variety technically known as hypotrochoids and epitrochoids. The well known toy version was developed by British engineer Denys Fisher and first sold in 1965. The name has been a registered trademark of Hasbro Inc. since 1998 following purchase of the company that had acquired the Denys Fisher company."
I really enjoyed using this when I was in elementary school. Innately I possess no artistic talent, but with Spirograph I could create interesting drawings. How many of you used Spirograph?
******************
In 1965, the year Spirograph was introduced, the US auto industry set a new production record at 8.8 million units. Ironically, that was also the year that Ralph Nader's Unsafe At Any Speed was published.
Chrysler produced the last "letter series" car with the 300-L. The first, the C-300, was built in 1955 and is considered by some automotive historians to be an ancestor to the muscle car. From classiccars.com a picture of a 1965 300-L convertible:
For 1965 these cars were powered by a 413 cubic-inch V-8 engine that produced 360 HP/470 LB-FT of torque. The legendary Torqueflite automatic was the transmission.
Chrysler produced 2,405 300-L hardtops and just 440 convertibles. The hardtop sold for $4,153 and the convertible, as one would expect, stickered for more at $4,618. The total of 2,845 cars was the second highest among letter series cars; 1964 production (the 300-K) was 3,647. In the 11 years the cars were sold, total production was 16,981 units.
What do you remember about 1965? I remember that was the year I very reluctantly started kindergarten, but that's another story for another day.
#ThrowbackThursday
#Spirograph
#1965Chrysler300L
#somanycarsjustonelife
#disaffectedmusings
If you like this blog please tell your friends and share the blog URL (https://disaffectedmusings.com). Thanks.