In The World Is Change…
From 1996 through 1999 at this time of year I was at spring training with the Padres in Peoria, Arizona. Because I found spring training to be boring for the most part, especially before the games started, I would not stay in Arizona for the entire six weeks. I would go out there just before pitchers and catchers reported, making the drive with my long-time friend Fred who was the Assistant General Manager, stay for about ten days and then fly back to San Diego. Sometime in March I would fly back to Arizona and stay for another ten days.
When I was young I would have done anything to be with a major league team in spring training. However, during my last spring training visit in 1999 I was so miserable I knew I had to leave the Padres, which I did later that year.
One amusing phenomenon happened when I would return to the complex in Peoria in February. I would gaze in amazement at all of the new development: residential, retail, and road. I would inevitably say to someone, "Where the hell did all of this come from in a year?!"
When my wonderful wife, her parents and I went to Scottsdale, Arizona last year to attend the Barrett-Jackson auction, my wife's parents were bewildered by the size and scope of the Phoenix metro area, their former place of residence. Given that they left Phoenix in the 1960s and given the population growth, it's no wonder they didn't really recognize much of the area with which they used to be familiar. Here is a table comparing the 1970 and 2010 populations of a few western suburbs of Phoenix, where many of the spring training baseball complexes have been built, and the city of Phoenix itself:
| | | |
| --- | --- | --- |
| CITY | 1970 | 2010 |
| Peoria | 4,792 | 154,065 |
| Glendale | 36,228 | 226,721 |
| Goodyear | 2,140 | 65,275 |
| Surprise | 2,427 | 117,517 |
|   |   |   |
| Phoenix | 581,572 | 1,445,632 |
"Facts do not cease to exist because they are ignored."
– Aldous Huxley
Those population figures might be hard to believe, but they are true. The population of the entire Phoenix metropolitan area grew from just under one million in 1970 to more than four million in 2010. Hopefully sometime in 2021, the population will add a couple from the mid-Atlantic. The only constant in the world is change.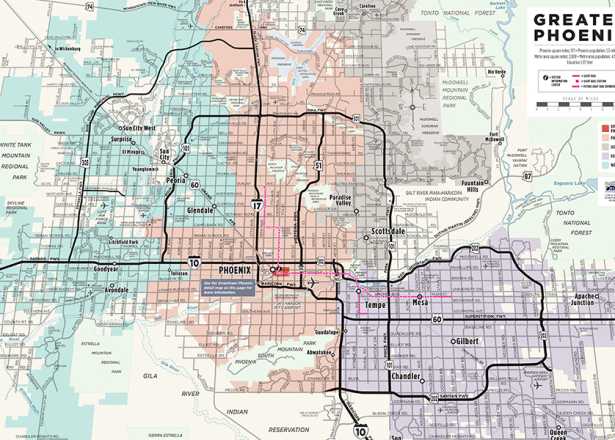 From Visit Phoenix a map of "The Valley Of The Sun."
******************
How sick are you of reading about the Cadillac Allante? Today's post was almost about the three GM cars of the 1980s that were "mold-busters" but which were failures: the Buick Reatta, the Cadillac Allante and the Pontiac Fiero. Only the latter had any success, with sales of almost 137,000 in its debut year of 1984, before succumbing to a reputation "fail."
General Motors developed its own reputation "fail" during this time. In today's parlance, the company would be accused of using its customers as beta testers. In other words, GM would release a new model before it had been thoroughly tested and then use the real-world experience of owners to improve the car. GM spent about $100 million developing a new suspension that would be used in the Fiero (and other cars) in 1988, but that was the last year the car was offered. The Allante finally received a powerful engine in 1993 and would sell more units that year than any other in the model's history, but the car was discontinued after that year. The dislike of General Motors by many car enthusiasts does not come out of thin air.
My opinion: I am not a big fan of Mary Barra, CEO of General Motors. She seems hell-bent on taking the company to a place that the American car-buying public isn't. It seems inevitable that electric cars will be the dominant paradigm in the future, but highly unlikely that will occur by 2030, the year by which Barra wants GM to have an all-electric fleet. Currently, electric cars have a market share in the US of under two percent.
Anyway, from Wikipedia a picture of the model of car I tried to buy when I moved to California in the mid-1990s, a Buick Reatta:
Boo me, sue me, but I think these cars look magnificent. They would not make the cut for my Ultimate Garage because they are short of horsepower and torque minimums, but they are among the best-looking cars ever, in my opinion.
I await the onslaught of dissent…
#TheConstancyOfChange
#BuickReatta
#somanycarsjustonelife
#disaffectedmusings
If you like this blog please tell your friends and share the blog URL (https://disaffectedmusings.com). Thanks.