Happy Frigal Fruday!
You say you're having a mid-life crisis? You say you want an exotic car, but you can't spend more than $40,000? Tell you what I'm going to do…
From this Hemmings ad a picture of a 1982 Ferrari 308 GTSi with about 21,000 miles. The seller is asking $39,900. For the nth plus nth time, the average "transaction price" for a new vehicle in the US is about $40,000. Also remember that it's easy, if you have the money, to spend $300,000 and up for a new Ferrari.
Ferrari introduced fuel injection (the "i" in GTSi) into this line in 1980. Here is the rationale from Ferrari's website:
"The fuel injection system gave both models much smoother power delivery. Unfortunately, meeting anti-pollution regulations meant that a few horses had to go, and the cleaner engines were less powerful than the previous carburettor ones. Aware of this situation and the need to re-establish its cars at the top their class, Ferrari immediately began further development of the V8 engine with the aim of increasing power whilst still keeping exhaust emissions within acceptable levels."
In US spec, the 2.9 liter V-8 (179 cubic inches for Bill Stephens) produced 205 HP/181 LB-FT of torque. This is not a monster performer and it wouldn't be cheap to maintain, but it's a beautiful Ferrari for less than the price of a well-equipped Toyota Avalon. That's a frugal buy in my book.
******************
From the Classics "division" of AutoTrader comes this car: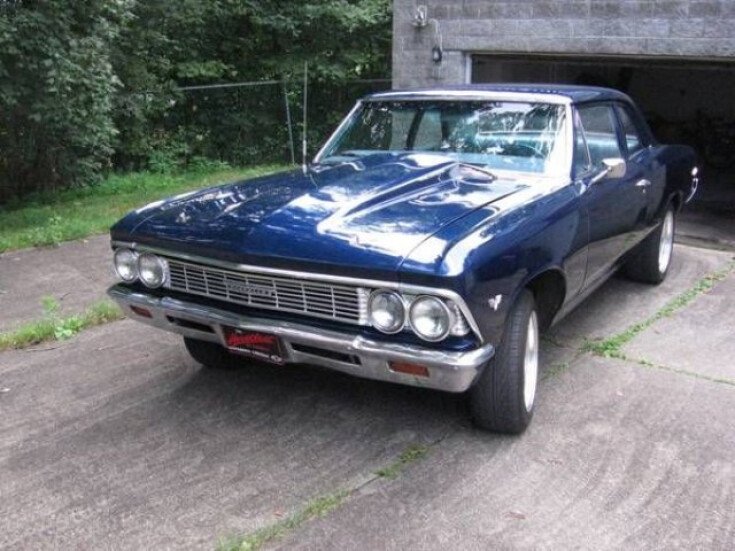 This is a 1966 Chevrolet Chevelle two-door post model. Although the ad doesn't specify the vintage, the car is powered by a 350 cubic-inch V-8, which I will assume is a Chevy small-block. This is not the original engine as that displacement was not available on Chevrolet cars until 1967. The transmission is a Turbo Hydra-Matic 350. The seller is asking $17,995.
Heretic that I am I have always preferred the looks of these GM A-Body cars compared to the style introduced in 1968. Beauty is in the eye of the beholder or different strokes for different folks. Anyway, back to this car…even with shipping and a fair amount of work you would probably be in this car for no more than $23,000-$25,000. Yes, one could buy a new turbo-4 or maybe even 6-cylinder Camaro for that price, depending on how it's optioned. You won't have any rear quarter vision, though, and to me the new Camaro looks are a little soulless. I think the look of these cars is quite appealing.
Please feel free to offer thoughtful comments.
#FrugalFriday
#1982Ferrari308GTSi
#BillStephens
#1966ChevroletChevelle
#somanycarsjustonelife
#disaffectedmusings
If you like this blog please tell your friends and share the blog URL (https://disaffectedmusings.com). Thanks.