From Wikipedia:
"The name [Wednesday] is derived from Old English Wōdnesdæg and Middle English Wednesdei, 'day of Woden', reflecting the pre-Christian religion practiced by the Anglo-Saxons, a variation of the Norse god Odin. In other languages, such as the French mercredi or Italian mercoledì, the day's name is a calque of dies Mercurii 'day of Mercury.'"
******************
Maybe millennials are not committed to central cities, after all…this CNBC article mentions that, according to the Census Bureau, 2018 was the fourth consecutive year in which a "noticeable decline" occurred in the millennial population of major cities. A 2018 Ernst & Young survey of 1,200 adults aged 20-36 found that more people in this group are buying homes in the suburbs than in cities.
In Sunday Suburbia I expressed my preference for living in the suburbs. I also noted that the suburbs have been the most populous part of the US in every census since 1970. Given the trends mentioned in the CNBC piece I guess that won't be changing any time soon.
A relevant chart showing the 1950 and 2010 central city populations for a few selected locales:
| | | | |
| --- | --- | --- | --- |
|   | 1950 | 2010 | Pct Chg |
| Baltimore | 949,708 | 620,961 | -34.6% |
| Chicago | 3,620,962 | 2,695,598 | -25.6% |
| Cleveland | 914,808 | 396,698 | -56.6% |
| Detroit | 1,849,568 | 713,777 | -61.4% |
| St. Louis | 856,796 | 319,294 | -62.7% |
| Washington, DC | 802,178 | 601,723 | -25.0% |
Yes, some of the loss of population in these cities is due to migration to other metro areas, but much of it is simply a move to the suburbs. For example, Baltimore's central city population declined by about 16% from 1990-2010, but the metropolitan area population (which includes the central city) increased by about 14%. Sorry to change time frames, but I can't find metro area populations for 1950 and I wanted to show the full scope of population decline for these cities, which began shortly after the end of World War II.
******************
So, two of the three books about Studebaker have arrived; the other will not be delivered as the order has been cancelled by Amazon due to a "technical problem." As I order more and more items from third-party sellers I have encountered more difficulties in order fulfillment.
One of the books that was delivered was this:
In all honesty I only ordered the book to get more information about and more pictures of this car: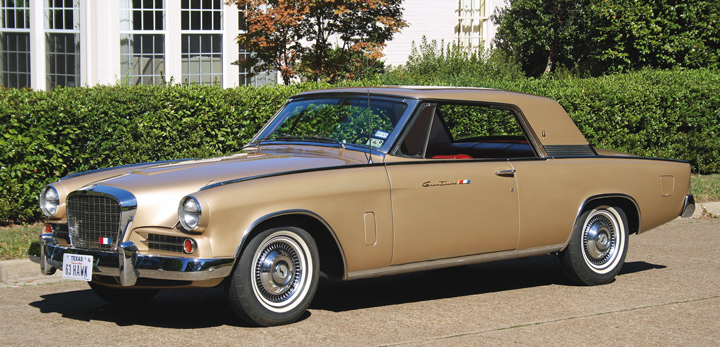 From blog.consumerguide.com a picture of a Studebaker Gran Turismo Hawk, the automobile with which I am currently obsessed. (OCD is a bitch even if it's OCD-lite.) A slight disappointment is, except for the front and back covers, all of the photos in the Reynolds book are in black and white.
Do any of you have your own obsessions that you would like to share? I promise that no one will judge…
#Wednesday
#FlightToTheSuburbs
#StudebakerBooks
#StudebakerGranTurismoHawk
#Obsession
#somanycarsjustonelife
#disaffectedmusings
If you like this blog please tell your friends and share the blog URL (https://disaffectedmusings.com). Thanks.