"Some rise by sin and some by virtue fall."
– Shakespeare
"No good deed goes unpunished."
– Who Knows
******************
I would be remiss if I didn't mention the two "most important" cars in my life. First, this one:
This picture of a 1956 Buick Century is obviously from Car-from-UK.com. A '56 Century was the first car I ever drove, but just as important it was the first car I really remember. My father bought the car from the original owner in 1961, I believe. He owned the car for about 20 years so I grew up with it in a way, almost like a sibling. John Kraman (@CarKraman), this car did indeed start by turning the key to "On" and then fully depressing the gas pedal.
The steering box had a lot of play and in my first attempt to drive it I could not keep the car straight. My father ended that session quite quickly. However, I eventually got the hang of it and enjoyed driving it even after I acquired this car:
Two faded pictures I have shown before of my 1967 Pontiac GTO. This was MY first car and at first I didn't really appreciate what my father had done for me. My friend and neighbor, Larry, made me aware of how special this car was. I have already told the sad story of this car's end; anyway, I am here to celebrate this car and my entry into car ownership.
******************
I will reveal the cars for Ultimate Garage 2.0 one at a time in chronological order. Sometimes the year will not really be important.
No doubt existed that the 1956 Packard Caribbean would be on this list. The only question was whether it would be the convertible or the hardtop. I decided on the convertible. I mean, how could I leave a car off the list that literally made me cry at a car show?! (Actually that Caribbean was a '55, but it was a convertible.)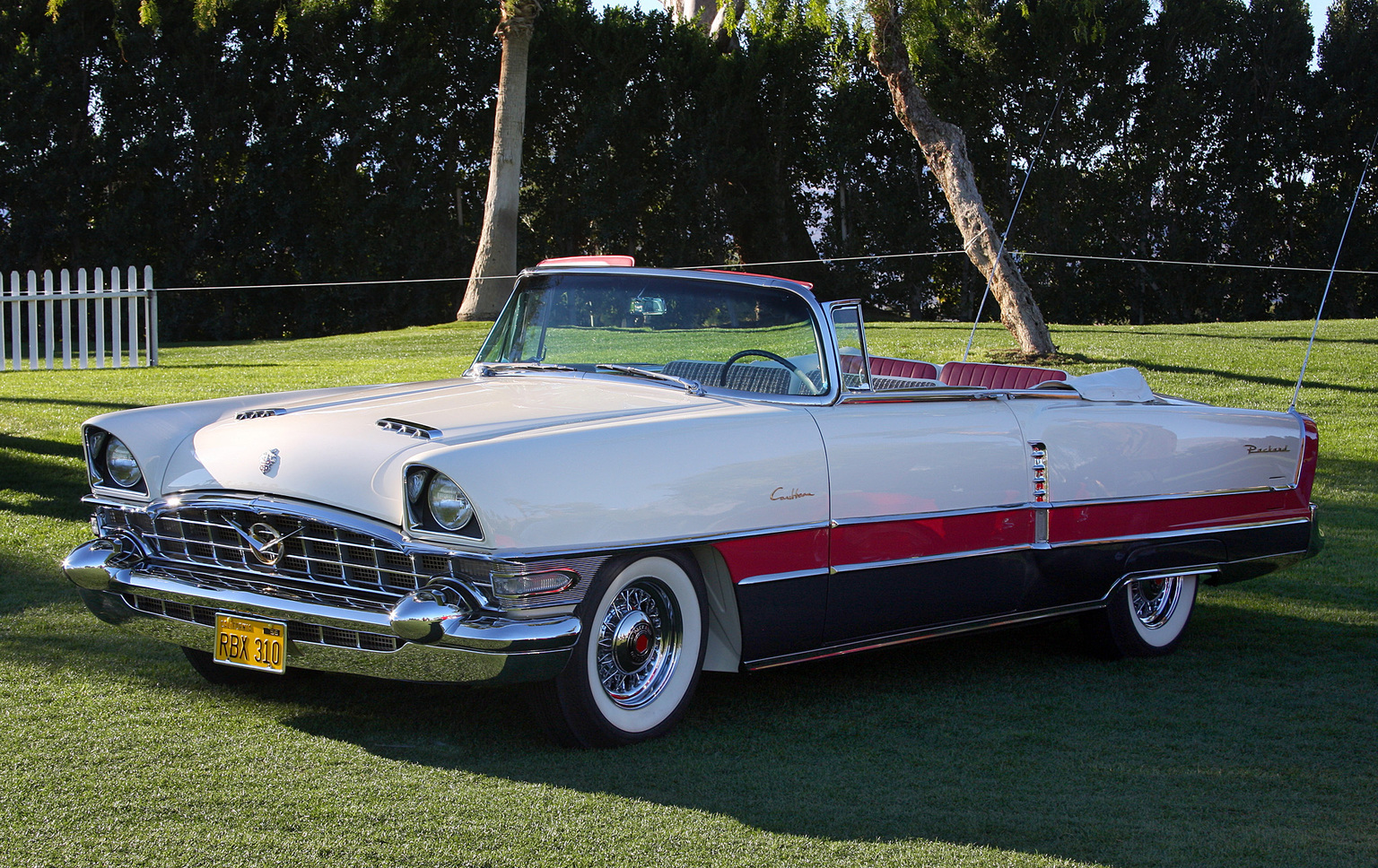 The top photo is from Mecum (the lot was offered at Chicago in 2014); the bottom photo is from supercars.net.
The '56 model was the last of the Caribbeans and, of course, one of the last "real" Packards as for 1957-58 the cars were badge-engineered Studebakers built in South Bend. Total Caribbean output for model year 1956 was 539 with 276 of those being convertibles. The Caribbean was powered by Packard's own 374 cubic-inch V8; the Caribbean spec had two four-barrel carburetors, a 10-to-1 compression ratio and was rated at 310 HP/405 LB-FT of torque. That HP rating probably was not an accident as it was five more than Cadillac's most powerful engine for 1956. Here is something unusual offered in the Caribbean:
Yes, reversible seat cushions! These pictures appear in Packard: A History Of The Motor Car And The Company edited by the late Beverly Rae Kimes.
I think the 1956 Packard Caribbean is the epitome of 1950s American car style. Of course, the fact that it was manufactured by a defunct American make tugs on my heart strings a little more. Subjectively, they make an impression on me like no other car. I think they are magnificent.
One feature I'm going to try for Ultimate Garage 2.0 is to show the value of each car. Hagerty gives an "average" value for a 1956 Packard Caribbean convertible of about $67,000. I have seldom seen one listed that low on Hemmings. However, I expect that these cars will no longer appreciate as their market is disappearing. Price is usually determined by supply and demand.
Any thoughts on this selection? I'm sure 56packardman will like it. 🙂
#UltimateGarage2.0
#1956PackardCaribbeanConvertible
#somanycarsjustonelife
#disaffectedmusings
If you like this blog please tell your friends and share the blog URL (https://disaffectedmusings.com). Thanks.