If Mel Kiper and I weren't friends I probably would not watch the NFL Draft. He and I have known each other for more than 25 years. Mel graciously wrote the forward to my book that The Wall Street Journal called without a doubt the best book of its kind ever written.
Would you believe that the first round of the NFL Draft has more viewers than virtually all MLB and NBA playoff games? This year, when combining the coverage on ESPN, ABC and the NFL Network the number of viewers for the first round was almost the same as the number (on the same night) for The Big Bang Theory, which is only the longest-running multi-camera sitcom in TV history. By the way, people must like to watch Mel because more people watched the draft on ESPN than on ABC.
From ftw.usatoday.com a picture of Mel Kiper.
******************
From The Muscleheaded Blog an Ultimate Garage submission, for which I am grateful:
Let me see……
I think a vintage Ferrari 250 GT Berlinetta, or a 1958 Austin Healey 100-6. But, I wouldn't kick a 1957 Thunderbird out of my garage, either.
From supercars.net a picture of the aforementioned Ferrari:
These cars were powered by a 3-liter/180 cubic-inch V-12—very small displacement for 12 cylinders—that produced 240 HP. How small of a displacement is that? The engine in the 2009 BMW Z4 I owned was almost the exactly the same size with just 6 cylinders.
******************
On this day in 2009 General Motors announced that Pontiac would be dropped and that production would be phased out by the end of 2010. As I have written before I have quite an affinity for the make. My first car was a 1967 GTO; the car I owned the longest was a 1995 Grand Prix. My wonderful wife owned a 1979 Trans Am although this was before I knew her.
In doing a little research to confirm the date I stumbled across this Jalopnik article. In it Bob Lutz, long-time automobile executive who was at GM when the Pontiac decision was made, is quoted as saying:
"The Feds basically wanted to get GM down to Cadillac and Chevrolet. They said, 'You don't need all these brands. You need one prestige brand, and one mass-market brand.' And we said 'well we can't get rid of Buick because Buick is important in China, and if Buick becomes an orphan in the United States then the Chinese are no longer gonna be interested in it.' And the Feds said 'Fair enough, but everything else goes.' We said we'd also like to keep GMC. They said 'Well, GMC is basically just like Chevrolet,' and we said 'that may be true, there may be a lot of shared components, but GMC has an entirely different image, a different customer base, and people are willing to pay different prices for a GMC, and here's the profitability,' and the Feds said 'whoops, okay, keep GMC.'

So now we had Buick, GMC, Cadillac, and Chevrolet, and then, I wanted, badly wanted, to keep Pontiac, because Pontiac was on its way back, and it had been mismanaged for a number of years, you know, with 'rebuild excitement,' and the excitement was only in the plastic body cladding, mechanically there was nothing about Pontiac in the 90s that would make your heart beat faster. And with the Solstice and Solstice coupe, and with the Pontiac G8, which was a great car we were embarked on a strategy of making Pontiac different from the rest of GM in that Pontiac wouldn't get any front wheel drive cars, they would all be rear-wheel drive, and the next G6 was going to use the architecture of the Cadillac ATS, it was going to be a 3-series sized rear-wheel Pontiac, with basically the Cadillac ATS 'de-premiumized,' obviously, a lot of the cost taken out, but still fundamentally that architecture.

That was going to be the next G6, and I think we could've moved Pontiac away from every other American volume brand and really started positioning it as an attractive US alternative to some of the, and obviously at much lower prices than the European rear-wheel drive cars, but the Feds said 'yeah, let's just, how much money have you made on Pontiac in the last 10 years?' and the answer was 'nothing.' So, it goes. And, when the guy who is handing you the check for 53 billion dollars says I don't want Pontiac, drop Pontiac or you don't get the money, it doesn't take you very long to make up your mind. [emphasis mine]

But I think it is a shame, Pontiac was on its way back, and it was killed before it, before the plant could really sprout blossoms, you know, it was well on its way. So, I agree with you, I think Pontiac was a great, wonderful history, mismanaged for a number of years in the 80s and 90s and it was clearly on its way back, and we were starting to see a very good customer base in Solstices and especially in the G8, which was favorably compared in a lot of road tests to the BMW 5-series, people would say dynamically the car is as good and it's more powerful and way cheaper, but that was too bad. But you can't go through Chapter 11 without some really harmful effects."
This statement is more evidence that Buick's popularity in China saved it from the chopping block.
General Motors seems to be doing well these days. For example, for its fiscal year 2018 it reported profits of about $8 billion. Of course the automobile industry is difficult to predict and very large companies can't change directions quickly.
A short pictorial homage to Pontiac:
From cardomain.com a picture of a 1967 Pontiac GTO.
From hotrod.com a picture of a 1969 Pontiac Trans Am; in fact, this is supposed to be the first Trans Am built:
From supercars.net a picture of a 2006 Pontiac Solstice GXP. The GXP variant was powered by a turbocharged 2-liter/122 cubic-inch 4-cylinder engine that produced 260 HP/260 LB-FT of torque, which was the highest specific output in GM history.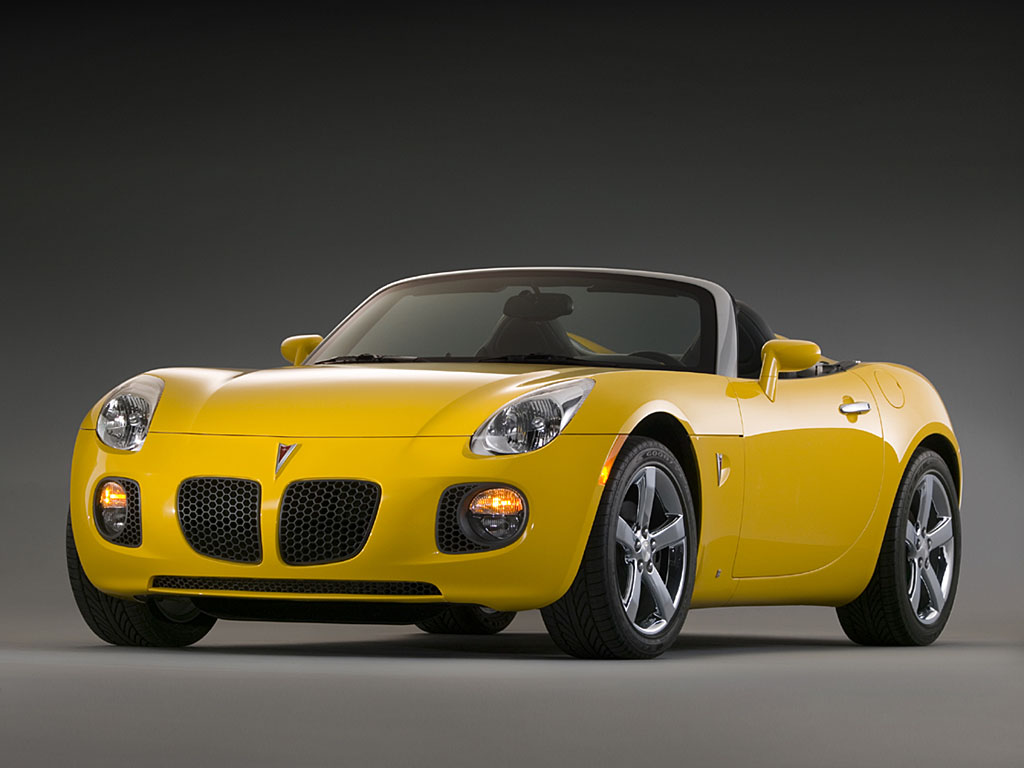 From wallpaperup.com a picture of a 1957 Pontiac Bonneville convertible with a fuel-injected engine. The fuelie wasn't solely reserved for Corvettes.
#somanycarsjustonelife
#disaffectedmusings
If you like this blog please tell your friends and share the blog URL (https://disaffectedmusings.com). Thanks.