I don't follow golf. However, I would be remiss if I didn't note Tiger Woods' Masters win this past weekend. For what it's worth, in my opinion his winning a major tournament after such a long "drought" and given his long period of trials and tribulations, much of which was self-inflicted, is amazing and may be prima facie evidence that he is the greatest golfer of all time.
******************
Another Tiger: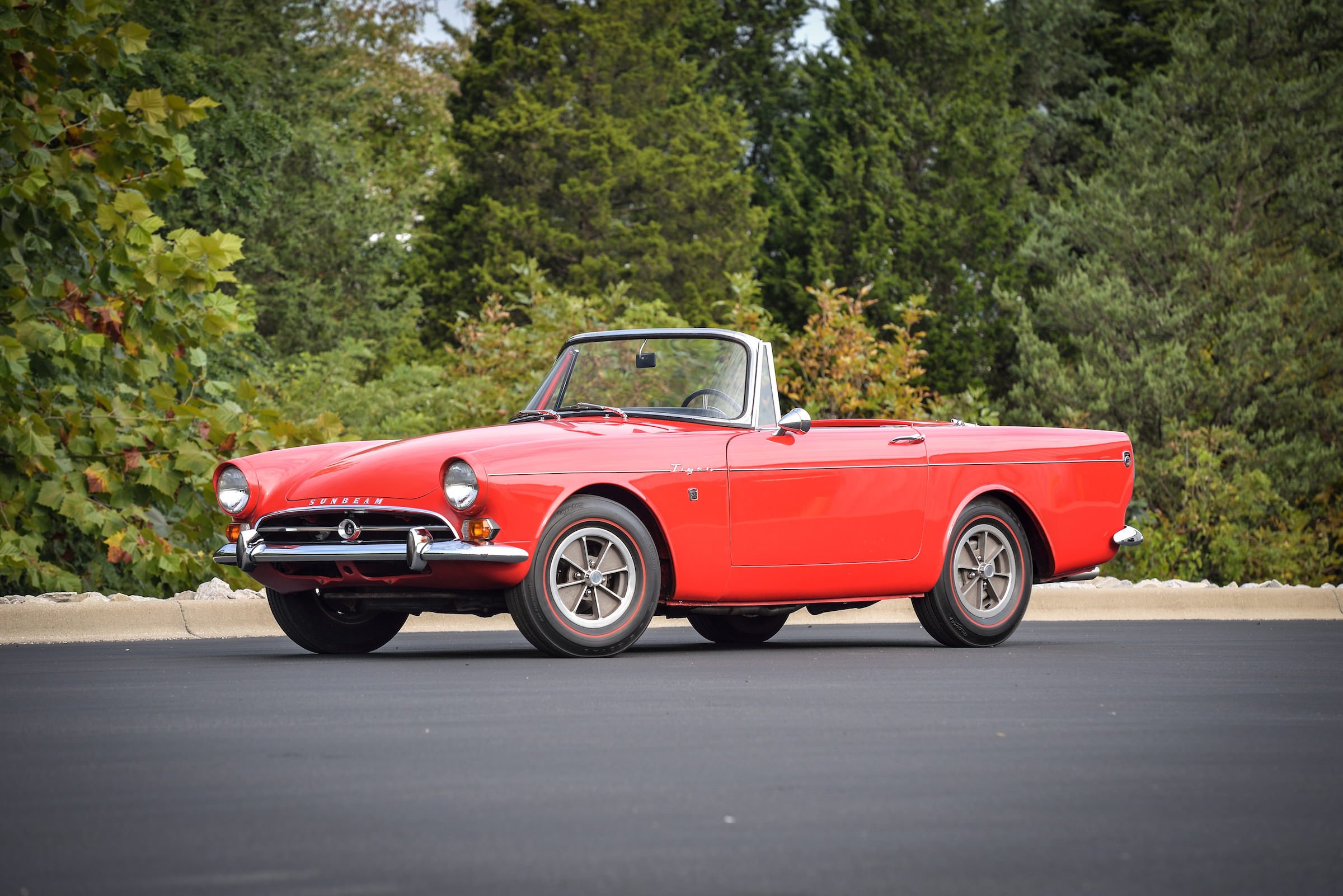 From silodrome.com a picture of a Sunbeam Tiger. I have a thing for roadsters with small-displacement V-8s. OK, I have a thing for a lot of "strange" things; I mean, if the shoe fits…
The Tiger has been called the Poor Man's Cobra because it is a car of similar concept, but not pitched at the same level. Carroll Shelby played a role in designing the Tiger although not, perhaps, to the extent of his role in designing the Cobra.
The Tiger was a higher performance version of the British Sunbeam Alpine and was produced from 1964 to 1967. The builder was the British company Rootes. The first version, the Mark I, was the majority of Tiger production and came from the factory with the Ford 260 cubic-inch V-8 rated at 164 HP/258 LB-FT of torque. If that doesn't sound like a lot of output remember that this car had a tiny 86-inch wheelbase and weighed about 2,600 pounds. It was also possible to buy a higher-output engine which would have been installed by the dealer.
In its first year of production virtually all Tigers were exported to North America. In an effort to appeal to American buyers the car was fitted with "Powered by Ford 260" badges on each front fender beneath the Tiger logo.
The Mark II was powered by the famous Ford 289 cubic-inch V-8. I have seen the output of the engine used in the Tiger listed at 200 HP/282 LB-FT. I thought the 289 had 195 HP with a two-barrel carburetor and 210 HP with a four-barrel. The discrepancy is not really a big deal. Maybe Professor Kraman can help us out here.
Chrysler purchased Rootes in 1967, didn't want to use a Ford engine in its products and didn't have a suitably sized V-8 of its own. That was the end of the Tiger after about 7,000 were produced.
Anyone reading have any familiarity with these cars? I would very much like to read about your experiences.
#TigerWoods
#SunbeamTiger
#somanycarsjustonelife
#disaffectedmusings
If you like this blog please tell your friends and share the blog URL (https://disaffectedmusings.com). Thanks.
John "The Professor" Kraman (@CarKraman) was kind enough to reply to my questions to him on Twitter:
"Have always said 164hp as produced but many were modified at the dealer for more power."
"200hp was the 289 rating I have always stated and there is no power rating that I am aware of for 4bbl modified Tigers."