I wasn't going to post today as I still feel like crap and I just am blank mentally (yes, even more so than usual). In my Twitter feed, though, I saw this:
"The problem with today's left-wing and right-wing ideas is that they are both based on the fantasy that the other half of America can be conquered, and when it disappears we can get everything we want."
From @nytdavidbrooks…
If he really believes both halves of that statement, then he is on the ball in my opinion. NO ONE has a monopoly on truth and wisdom and neither does ANY ideology.
******************
While I'm here, anyway…
The NFL Scouting Combine starts later this week. Surprisingly, Mel Kiper, Jr. will be attending it for the first time. I have mentioned that he attended my wedding. Mel and I have been friends for more than 25 years. He wrote the forward to my book that the Wall Street Journal called without a doubt the best book of its kind ever written.
Mel has great demands on his time and sometimes it is months between conversations, but we then pick up as if we had just spoken last week. He is a great example of Hegel's famous remark: "Nothing great in the world has ever been accomplished without passion." You can say that the NFL Draft is unimportant, but Mel's passion for it has ignited the entire cottage industry in covering the draft, in my opinion.
******************
From this article in a British edition of GQ Magazine comes this picture: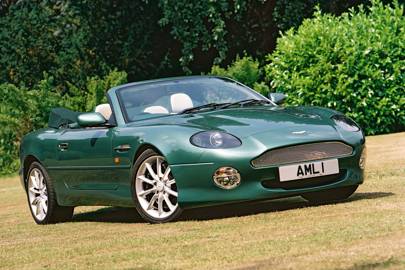 This is an Aston Martin DB7. The article title is, "Why the DB7 is the only Aston Martin you should buy." Several articles like this about the DB7 have appeared on the Internet recently. More from the GQ piece:
"First seen in showrooms some 25 years ago, the DB7 has never been a more appealing package as now. Beautiful body? Check. Supercharged yelp? Check. Impeccable handling, ride and balance? Check, check and check. And all with that fabled badge at the front.
That it was derived from an abandoned Jaguar concept, funded by Ford and refined by Tom Walkinshaw Racing? Irrelevant. Unlike the cynical Cygnet, the DB7 was engineered as an Aston Martin – and the British marque's blood runs thick in its veins. It was, after all, the car that saved the company."
Today's not Frugal Friday, of course, and these cars aren't cheap, but I looked on AutoTrader and found 7 DB7s listed at $30,000 or less. Remember that the average price of an average new vehicle in the US is approaching $40,000. NOTHING about an Aston Martin is average.
#somanycarsjustonelife
#disaffectedmusings
If you like this blog please tell your friends and share the blog URL (https://disaffectedmusings.com). Thanks.