Of course people not reading this will not get the message, but I am very disappointed at the significant decline in the number of views/visitors for Disaffected Musings since early/mid November. I don't care if I sound like a whiner; I am very proud of this blog. I read other blogs on the Internet and like almost none of them. Most people today cannot write and I am not sorry if that sounds elitist.
To those of you still reading do you have any ideas why so many fewer people are reading? What do you think can be improved? Without using Fack Fucebook or Guck Foogle how can I get more people to read the blog?
******************
I am somewhat surprised no one has offered an opinion on the car in which I might have bidding interest next month. Let me state up front that I would assess the probability that I buy the car at no more than 5%. The car might have a 6-speed manual despite the description, it might not look as good in person, upon inspection I might discover the car is leaking fluids or, most likely, the bidding will go beyond what I want to spend right now.
******************
Although I have noted the results of my blood test in a reply to a comment by Steve Dallas, for the rest of you the HbA1c result was very good. I went from having the second highest/second worst reading in my life to the lowest/best in a matter of three months. It's amazing what cutting out ice cream and cookies will do for your blood sugar. <sarcasm> The result was good enough that my physician thinks I might be able to stop taking Metformin. I told him I was doubtful that could actually happen. I will also use this opportunity to state my politically incorrect belief that for 80% of people who are overweight and/or have Type 2 diabetes (remember Pareto's 80/20 rule) lifestyle choices are the primary reason. By the way, I am not overweight. Given my exercise regimen and short eating window every day due to GERD it is virtually impossible for me to gain weight. I weigh 20-25 pounds less than I did before I started running 8-9 years ago. Exercise really works!
******************
From Car and Driver comes this picture: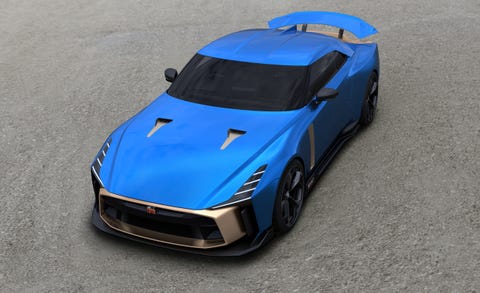 Here is another photo: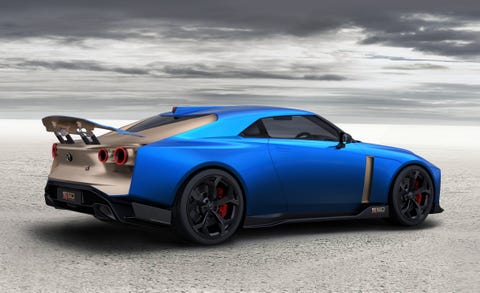 This is the very limited production Nissan GT-R50 which was created in conjunction with Italdesign. Only 50 of these will be produced. The GT-R50, which might be a preview of the next iteration of the GT-R, is about 4 inches longer and 4 inches wider than the standard GT-R. The engine output has also been increased to a staggering 710 HP/585 LB-FT of torque. The engine for the Nismo "performance" version of the current GT-R is rated at 600 HP/481 LB-FT.
I have written about the GT-R before, but I think it's an amazing car even if it's a little long in the tooth.
******************
Here are links to the posts, not counting the Home Page, that have produced at least two percent of all views for Disaffected Musings:
I don't think it's a coincidence that two of these three posts are about Studebaker. 56packardman very graciously puts links to my Studebaker posts on the Studebaker Drivers Club forums. I don't know how many members are in the club, but they are FANATICAL about Studebaker and will read anything relating to the make. The non-Studebaker post is about the engine choice for my restomod C2 Corvette build.
Once again, I would really like to read any suggestions about how to improve the blog and/or get it read by more people.
#somanycarsjustonelife
#disaffectedmusings