LS7? LS9? LSA? LS3? To someone like Steve Dallas (and to me as well), those letters and numbers are not just gobbledygook. They are designations for different GM/Chevrolet engines.
If my restomod C2 Corvette is to become a reality, and I do not short-circuit the process by buying a car that's already built, then probably the most important decision I have to make is what engine to use.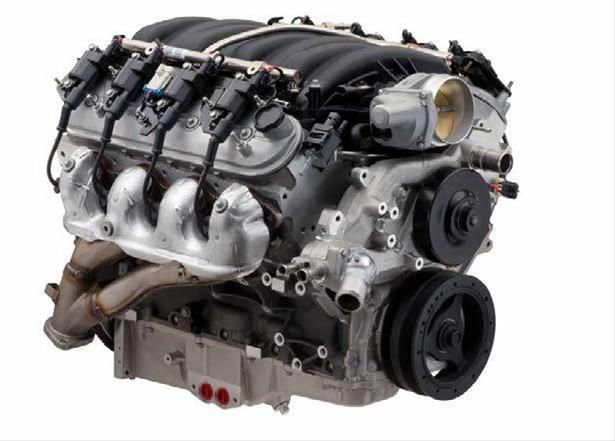 From summitracing.com a picture, I think, of an LS7 engine. (I couldn't capture pictures of this engine from the Chevrolet website.) Despite the power increase from forced induction like supercharging or turbocharging, I am 99% sure I am going to use a naturally aspirated engine like the LS7. KISS: Keep It Simple, Stupid. Hey, I always call myself Simple. 🙂
Despite its hefty displacement, about 428 cubic inches, the LS7 is considered a small block engine. Displacement and the physical size of an engine block are correlated, but not perfectly. The engine output is officially 505 HP/470 LB-FT of torque, but many believe that Chevrolet has understated the output, at least by five percent. In any event a bigger throttle body than stock and a freer flowing exhaust system will boost power without having to resort to adding a supercharger and/or changing the cam, both of which would add to the cost of the build and to the complexity of the engine.
If you haven't figured it out by now I have decided that the engine for my restomod will almost certainly be an LS7. This engine has titanium connecting rods and titanium intake valves, two items that are on my master wish list for the build. The LS7 has been installed in thousands of vehicles and is well known and well understood by builders and mechanics. It will be installed in something like this for me:
From corvetteblogger.com a picture of a 1967 Corvette restomod convertible. I believe this is the third time I have shown this particular image on the blog.
I have been thinking about this build for years and despite the giant size of my wish list I have narrowed my choices down quite a bit. Barring unforeseen circumstances this is not a no-holds-barred, unlimited budget project. As I have written before, in an ideal world with an unlimited budget I might have had a 1,000+ HP engine installed, an engine that could cost $50,000+ on its own. The LS7 engine should cost $12,000-$15,000.
******************
I want to thank all of those from the Studebaker Drivers Club who read this post after finding a link for it on the SDC forum. (Thanks again to 56packardman for posting the link there.) Two of the most read posts on Disaffected Musings are about Studebaker (this is the other one) and most of those views are from SDC members.
Any regular reader of this blog knows about my obsession with defunct American makes and that my two favorite Studebakers are the Avanti and the Gran Turismo Hawk. I apologize to those Studebaker fanatics who think my two favorites are too recent and too short-lived to be liked so much.
From momentcar.com a picture of a 1933 Studebaker 56. That was a very rough year for the company, the year Studebaker went into bankruptcy and its president, Albert Erskine, committed suicide. Some automobile historians believe those events were the beginning of the end for Studebaker even though the company manufactured cars until 1966. I don't know enough to offer such an opinion, but it is certainly true that many people were alive in the 1950s and 1960s who remembered Studebaker's difficulties in the 1930s.
If you're here after clicking on a link from Corvette Forum, welcome. Please bookmark the blog URL (https://disaffectedmusings.com) and return often. Thanks.
#somanycarsjustonelife
#disaffectedmusings